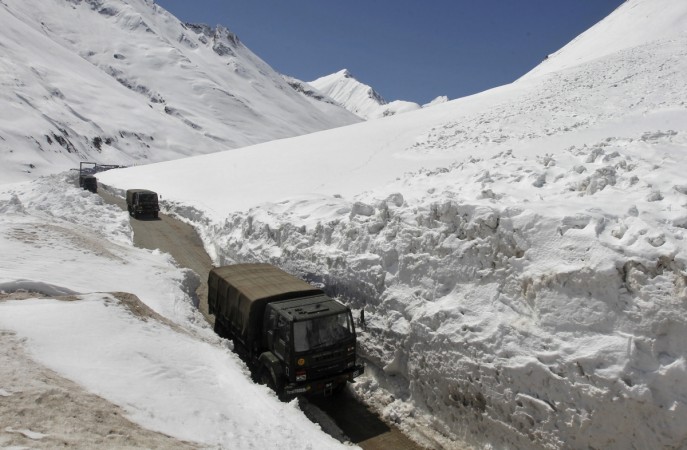 Three soldiers succumbed to injuries after multiple avalanches hit the Batalik Sector of Jammu and Kashmir on Thursday. At least five soldiers, of which two have been rescued, were trapped under snow in Ladakh due to the recent spate of avalanches.
All five soldiers were rescued from Ladakh where they were trapped after snowfall triggered avalanches in the area, burying an army post, but only two survived.
Batalik Avl Update - Out of three soldiers missing, two retrieved; unfortunately succumbed. Search for balance one soldier continue. @adgpi

— NorthernComd.IA (@NorthernComd_IA) April 7, 2017
"Unprecedented snowfall triggers multiple avalanches; a Post in Batalik Sector buried, 2 soldiers out of 5 rescued," the Northern Command had tweeted on Thursday, adding, "Rescue operation for balance three soldiers in progress. Specially trained & equipped Avalanche Rescue Teams employed."
"Specially trained Avalanche Rescue Teams have been deployed to rescue them," an Army spokesman said.
The weather department has predicted heavy rain and snow in isolated places in the northern state. Since Wednesday, 83.90 mm snowfall has been recorded in Srinagar alone.
"High-danger avalanche warning is in place for slopes and areas of Kargil in Jammu and Kashmir," the Snow and Avalanche Study Establishment (SASE) had issued a warning early Thursday. "A medium-danger avalanche warning is in place in slopes and areas of Baramulla, Kupwara and Bandipora district of Jammu and Kashmir."
High and medium danger warnings were given for J&K and Himachal Pradesh on Thursday.
In January, as many as 20 soldiers died after they were buried under snow following avalanches in the Sonamarg area of Ganderbal, Gurez in Bandipora and Machhil in Kupwara districts.
Weather condition in Jammu and Kashmir
Meanwhile, vehicles remain stranded in Udhampur as Jammu-Srinagar National Highway continues to remain closed due to landslide. Restoration work is underway. Water level in the Jhelum river has begun to recede after reaching close to danger levels after rain stopped.
More avalanches hit army posts in Kaksar Sector. All affected soldiers were safely rescued. "Damage to equipment & stores being recouped," tweeted the Northern Command of Indian Army.
In Panzipura on Thursday, Indian Army's Rashtriya Rifles Battalion rescued 10 children stranded in waterlogged areas of Parray Mohalla as the state was receiving heavy rainfall.