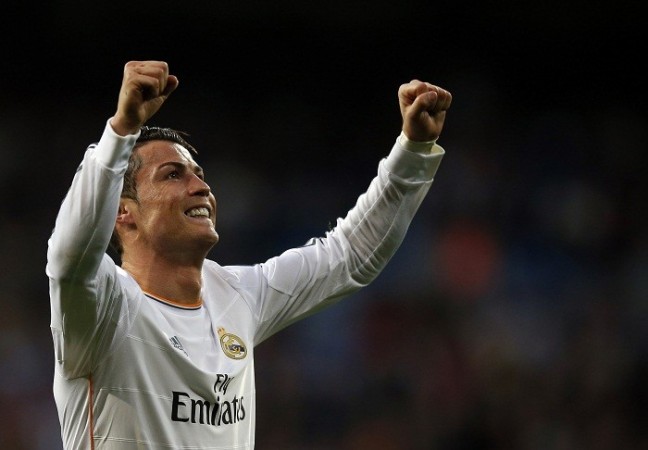 Real Madrid earned a firm grip on the La Liga after a comfortable win over Levante, with the Los Blancos increasing their lead from Barcelona following the defending champions' shock defeat.
Atletico Madrid had gone level with Real momentarily after their 2-0 win Celta Vigo late on Saturday, courtesy a brace from David Villa, but their crosstown rivals pulled three points clear following a worry-free 3-0 result against 10-man Levante.
Real are now four points ahead of Barcelona, who were woeful in a 1-0 defeat at the hands of Real Valladolid, with Fausto Rossi scoring the only goal of the game, early in the first half.
"We lacked what makes us Barca," manager Gerardo Martino said after the painful defeat. "Good elaboration in our build-up, finding spaces, breaking through on the wings and having depth.
"We had very few chances of actually running at goal and we almost always had to fight against 10 defenders. A good solution would have been creating more space."
In a league where just one defeat could prove to be the decisive factor in losing the title, Barca defender Dani Alves admitted the league was now out of his team's hands, with Real and Atletico holding the upper hand.
"It's hard to win the league if you don't take the three points week in and week out," the Brazil international said. "Now we don't depend on ourselves and that complicates things.
"We will never give up, we will fight until the end like we've always done. There isn't time for complaints, we have to keep on fighting."
With Barcelona dropping points, Real would have received a further incentive to ensure they don't slip up against Levante, and their talisman Cristiano Ronaldo got them going with the opener in just the 11th minute.
Ronaldo headed in a cross from Angel Di Maria for his 24th league goal of the season, before turning creator four minutes into the second half, setting up Marcelo for Real's second goal.
Levante defender David Navarro was given a rather harsh red card for a foul on Ronaldo in the 64th minute, with the away side then piling on further misery on themselves courtesy an own goal from Nikos Karampelas.
"We had a lot of opportunities, [Levante goalkeeper] Keylor Navas had a top game, I'm happy with the match we played," Real manager Carlo Ancelotti said. "The important thing is to win the league, it doesn't matter how you do it.
"I think it will go right down until the wire because there are two teams very close to us. For Real Madrid it's clear that the objectives are the three competitions."
Results: Sunday: Valencia 1-1 Athletic Bilbao; Real Madrid 3-0 Levante; Almeria 1-3 Sevilla; Espanyol 3-1 Elche.
Saturday: Granada 2-0 Villarreal; Celta Vigo 0-2 Atletico Madrid; Real Betis 2-0 Getafe; Real Valladolid 1-0 Barcelona.