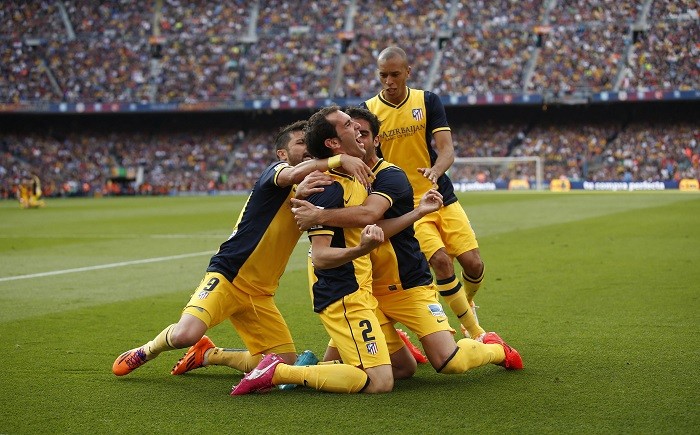 The one thing that Atletico Madrid have had this season is just that sense of spirit, that something special which is forged in great teams, the intangible which just cannot be explained.
Trailing by a goal to the mighty Barcelona, at the Camp Nou, all of that spirit needed to be invoked, and post halftime, Atletico found just that, and then some, to pull off a 1-1 draw and the point needed to clinch their first La Liga title since 1996.
Alexis Sanchez had given Barcelona the lead just past the half hour with an absolutely wicked strike from a tight angle, only for Diego Godin to head home the equaliser four minutes into the second half to score the goal that brought out the emotional waterworks at the final whistle.
Atletico have been the best team in the league this season, and it would have been one of the great pities to see them stumble at the final hurdle, because justice very rarely gets its due in football. On Saturday, though, that spirit, and ridiculous team work, inculcated by Diego Simeone, saw them through.
After 38 games of the league, Atletico clinched the title with 90 points, three more than Barcelona, who finished ahead of Real Madrid despite the two great rivals finishing on 87 points each.
Atletico also managed to break the hold that Real and Bara had on the Spanish league title, becoming the first side to win the Spanish first division not named Barcelona or Real Madrid since 2004.
Sanchez opened the scoring for Barcelona in the 33rd minute, slapping a wonderful shot off the inside of the near post after Lionel Messi had looked to control the ball with his chest with the ball falling to the Chilean.
Atletico found their attacking feet towards the end of the first half, overcoming the losses of Diego Costa and Arda Turan to injury, with Barca rather holding on till halftime.
However, there would be no stopping the Madrid side at the start of the second half, with that desire to not let the title slip out of their hands in the most cruel of twists, giving them the title-winning goal – Godin springing like a gazelle to power home a header after being left all alone by the home side's defenders.
Barcelona pressed and probed, looking for the goal that might help them retain the title, but never really looked like unlocking the peerless Atletico rearguard, leaving the Spanish giants without a real trophy of note this season, and Gerardo Martino heading out.
For Atletico, it is job done on one front, with the second lying in wait in Lisbon next week – the Champions League final against Real Madrid.