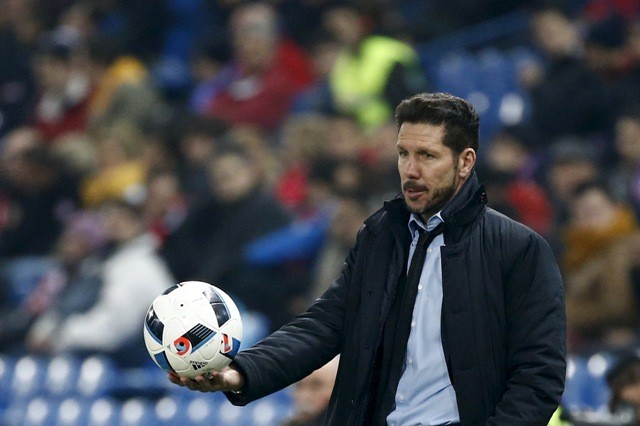 Revered Atletico Madrid coach Diego Simeone has joined the line of possible contenders for the Chelsea manager job this summer and the Argentine tactician has reportedly also agreed to a lucrative deal to become the next boss of the defending Premier League champions.
According to a report published in Spanish media outlet OK Diario, Simeone has already told the La Liga side about his plans this summer, which is to become the next Chelsea manager. The report has also claimed that Simeone has agreed to a £9.28 million per year deal at Stamford Bridge.
In addition, it has been reported that the former Atletico Madrid midfielder is not only looking for a double payment at Stamford Bridge, but he is also keen on a fresh challenge after spending close to six years at the Vicente Calderon.
Simeone is billed as a world-class coach already after he guided the La Liga side to the Spanish league title, the Copa del Rey as well as the UEFA Europa League during his tenure with the club. Brushing aside competition from the Spanish top two Barcelona and Real Madrid, Simeone played a key role in making Atletico Madrid one of the most-feared sides in Spain over the seasons.
Guus Hiddink is the current manager of Chelsea, but only on an interim basis. The experienced Dutchman has a contract at Stamford Bridge only until the end of the current season. Therefore, Roman Abrahimovic and staff have to take a decision at the earliest to give the Chelsea fans some kind of positivity going into the next season.
A top-four finish in the Premier League looks difficult for the Blues this season, leave aside defending the EPL title.
The sacking of Jose Mourinho midway this season also attracted mixed emotions from the fans. Therefore, Abrahimovic has the pressure to take a calculated step to rope in a world-class manager for Chelsea next season. Diego Simeone, with his record, fits the bill perfectly.
Meanwhile, Italian coaches, including the likes of current Juventus manager Massimiliano Allegri and Italy head coach Antonio Conte, are also rumoured to be close to the Chelsea manager's job.