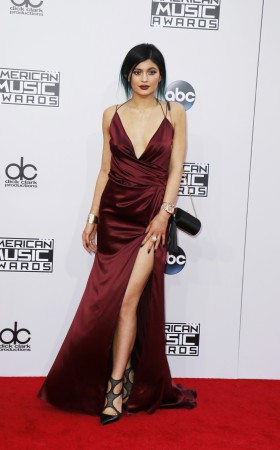 Kylie Jenner, Tyga and Blac Chyna's feud is expected to get uglier. And Chyna is not going to give up that easily.
After a showdown with singer Chris Brown, who asked the model to stay away from Jenner and Tyga's relationship, Chyna is planning to publicly humiliate the couple again. In fact, reports suggest that she has threatened to beat up the 17-year-old, once she turns 18 in August.
The "Keeping With The Kardashians" star might want to beef up security post her birthday as Chyna is gearing up to get her. The 11 May edition of Star Magazine reported that the youngest Jenner sister's relationship with Tyga has infuriated his ex-fiancée Chyna so much that she wants to take her beef with the teenager off the social media and in to the boxing ring.
"The former stripper has posted cryptic tweets seeming to encourage her followers to jump Kylie ... or she will do it herself. Chyna wants to give Kylie a beat down – she knows she would look bad for attacking an underage teen so she has been plotting revenge since Kylie broke up her family," the Star Magazine quoted a source.
Now obviously considering the fact that the consequences of attacking a teenager may not work in Chyna's favour, it's highly possible that the drama might unveil post Jenner's birthday.
On the other hand, Jenner's silence has been killing Tyga, who has been desperately trying to reach her. But the reality star has been giving the rapper a cold shoulder by ignoring him and not returning his calls or messages.
So in lieu of winning the girl and her forgiveness back, Tyga has started writing songs for Jenner.
"Tyga is pouring his heart into his music. He's writing new lyrics and songs about Kylie every night till the wee hours of the morning. He wants to play one song in particular for her the minute he steps off the plane in Los Angeles," a source told HollywoodLife.
However, this hasn't gone down too well with the mother of Tyga's two-year-old son. Chyna refuses to let Tyga be happy with Kylie and is determined to wreak havoc on their relationship.
"Blac is out for blood and doesn't care if she destroys Tyga's relationship. Don't be fooled into thinking she's let up because of her recent silence. As soon as she has more ammunition, she will put Tyga and Kylie on blast once again. She has no plans of stopping," the source claims.
Sounds like it's only getting started.