Unless you have been living under a rock, you would know by now that Kylie Jenner is pregnant. The 20-year-old is rumoured to be expecting her first child with boyfriend Travis Scott.
The couple hasn't officially confirmed the news about the pregnancy, but multiple sources claim they have been informing family and friends about the good news. Sources are also revealing that the couple is believed to be expecting a baby girl.
Also Read: Khloe Kardashian pregnant: Twitter goes crazy as fans claim 'they are building army of their own'
While fans of the Kardashians are rejoicing about the new member, many are still confused about why Kylie chose to conceive with Travis, whom she dated for just two months before getting pregnant, and not Tyga, with whom she was for about three years before breaking up this year.
Insiders claimed to TMZ that Kylie chose the man she hardly knew over Tyga because she didn't feel her relationship with the 27-year-old rapper was "solid enough" for a baby. Though she was eager to be a stepmom to Tyga's son King Cairo, it seems she was not keen on having her own child with the rapper.
So does she feel her relationship with Travis is solid? It looks like it. If the Jenner sister was clear that she doesn't want to have Tyga's baby knowing they weren't strong enough, she must have seen something special in Travis during the few months they dated to make her dive into motherhood with him.
Kylie has frequently shown interest in becoming a young mother. The reality star has wanted to become a mother ever since she hit the age of 18. Her dream has finally come true, but it is unclear if Kylie's pregnancy with the 25-year-old was planned or if she got knocked up by mistake.
Whatever be the case, the Kardashians are reportedly on board with the pregnancy regardless of her young age. Sources close to the Kardashians told TMZ: "The family doesn't view Kylie as a 20-year-old. They think her age is both deceptive and irrelevant, because she's developed a maturity way beyond her years."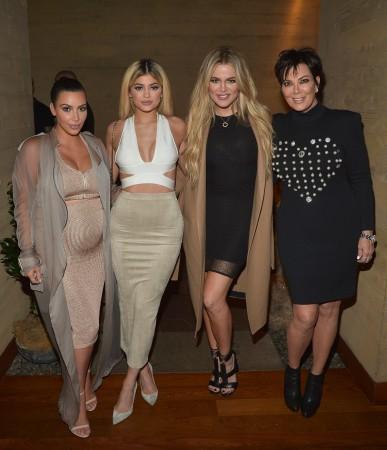 The insider adds, "The fam was shocked at first, but is accepting."
Hollywood Life recently reported that Kylie is planning a fabulous wedding, either before or after the baby is born.
"Kylie wants an amazing wedding and wants to be married as soon as she loses all of her baby weight," a source said.
"She wants her child to have a father that is always there and someone that will make their relationship forever," the insider added.
"She has seen her family and her exes deal with heartache and broken homes and she wants to have the family life that is a success. So to be married is something she wants very soon and she will be very excited for Travis put a ring on it," the source claimed.
Reports suggest that the Jenner sister could be expecting her baby in February, about a month after Kim Kardashian's surrogate's due date and a month or two before Khloe's due date.