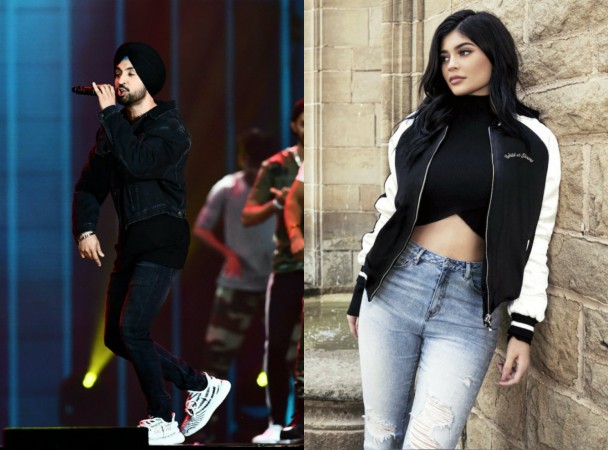 It is no secret that Diljit Dosanjh has got the hots for Kylie Jenner. The Punjabi singer has been extremely vocal about his love for the 20-year-old and never shies away from expressing it. He has been caught commenting on the Jenner sister's pictures, snapchat stories and what not!
He also admitted that his hit song Do You Know – which completes a year since its release – was dedicated to her. But what was his reaction when he found out that the love of his life is pregnant?
Also Read: Kylie Jenner pregnant, due date, photos: Who is the father – Travis Scott or Tyga?
As soon as the news of Jenner's pregnancy made headlines, fans of the Udta Punjab actor began expressing their concern. Worried, fans reached out to the active Twitter user to know his response to the pregnancy news.
Diljit, in his typical urban Pendu style, replied fans with his 2015 hit song titled 5 taara. He tweeted: "5 Taara Theke Uttey Beh Ke Taareya Mai Tera Sara Gussa." For those of you who are not familiar with this song, Diljit released this track in December 2015 expressing his anger when he found out that the girl who he likes cheated on him. The song fits perfectly to his situation.
But it looks like the song is not enough for the singer. Addressing a fan's tweet that poked fun at his heartbreaking situation, the singer joked that he must now also write a song for the current situation.
"I bet @diljitdosanjh is writing a song about his broken heart," a fan tweeted, to which he replied: "Karna hee Pena (I have to do it)"
But is he really taking this well? The Tribune, Chandigarh, reached out to the singer to find out. Diljit has assured the reporter and addressed worried fans that he was doing okay.
"Main theek han.. Theek an Main... (I am fine, I am fine)," he said.
The Punjabi rockstar is currently busy with his untitled war film that is based on the World War 1. He has been sharing behind-the-scenes photos on his Instagram and Twitter account to raise curiosity among the fans.
For those of you who haven't heard 5 Taara or Do You Know, here you go!