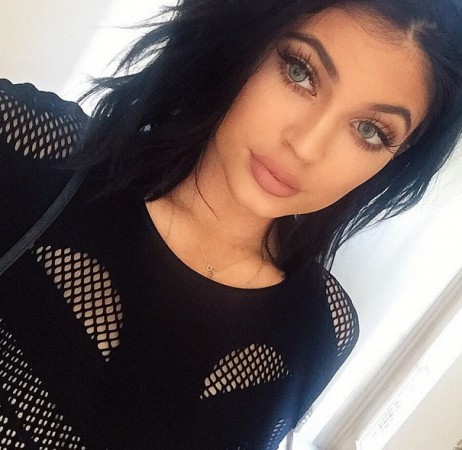 No doubt Kylie Jenner is the most likely successor to her elder sister Kim Kardashian. From posing to pouting, she has learned how to have her Instagram followers keep coming back for more. Much like Kim's rear end, Kylie's duck lips are the most fascinating thing about her, according to her fans.
Kylie has vowed time and again that her famous pout was not plastic surgery-induced, and now fans, who are desperate to trot with pillow lips, are taking part in a ridiculous "Kylie Jenner Lip Challenge". Those undertaking the challenge put a glass or plastic cup on their lips for over five minutes, thereby increasing pressure in that area. Blood rushing to the lips cause them to inflate, making them look like the duck lips of the "Keeping Up with the Kardashians" star.
The painful beauty hack has given some participants puffed lips, but many were left with bruises as well. Many of them have posted the 'before' and 'after' pictures of their individual challenges, although a few of them are merely mocking those who did it for puffy lips.
Here are some of the before/after pictures of those who participated in the "Kylie Jenner Lip Challenge":
Kylie Jenner lip challenge LOL don't do it omg pic.twitter.com/TrVKpms4fD

— Gibby (@GabriellaRosaa) April 20, 2015
— Bails (@TheBailBrown) April 20, 2015
Shoutout to the kylie jenner lip challenge pic.twitter.com/ljGfDcjln9 — Ev (@Evelynwehateyou) April 21, 2015
Kylie Jenner lip challenge I'm too weak pic.twitter.com/2Pl1vGEyLx

— Sarah McCarthy (@sarahmccarthy54) April 20, 2015
TASHA DID THE KYLIE JENNER LIP CHALLENGE
pic.twitter.com/B1ymks22uk — tavs (@TaviaBullard) April 20, 2015
Meanwhile, YouTubers focusing on makeup tutorials have long been teaching viewers how to give the illusion of full "Kylie Jenner" lips. Here is the non-self destructive method of getting full lips like Kylie Jenner.