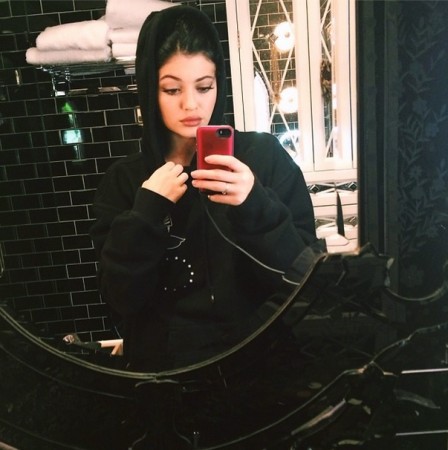 Kylie Jenner managed to cause quite a buzz, when she posted online a photograph of her wearing a sparkler on her ring finger, prompting speculations that her rumoured boyfriend, Jaden Smith, has popped the question.
Fame, the agency responsible for the photograph, further fuelled rumors stating: "Rumors are starting to swirl that Kylie's boyfriend Jaden Smith proposed to Kylie after she recently posted an instagram photo of herself wearing a ring!" Celeb Dirty Laundry reported.
It is highly unlikely that Kylie and Smith are engaged, considering the two are just 16-years-old and do not seem to have any plans of settling down any time soon.
Meanwhile, a Celeb Dirty Laundry report pointed out that the photograph might be a publicity stunt to draw media attention, and Kylie might be feeling left out with the buzz surrounding her elder sister Kendall's modelling career.
"Kylie's such a pretty girl, but she's found it difficult that her sister Kendall's modelling career has taken off so much more than hers," an insider told Heat Magazine. "Kendall is a natural born model. Kylie says she's happy for her but, behind the scenes, all her friends know she's jealous."
Kendall has been quite a success in the modelling field, especially after she walked in Marc Jacobs' show in the recent New York Fashion Week. The 18-year-old is being touted as the next couture catwalk queen.
Rumors also suggest that Kylie is considering plastic surgery to compete with her sister, and she had turned to half-sister Kim Kardashian for advice.
"Kylie idolises Kim and doesn't think she's as pretty as her other sisters, so she's decided to do something about it," the source said. "Kim's all for it. She feels there are too many photos out there of her before she started her surgeries."
Kylie reportedly wants work done on her boobs, nose and chin, and it's going to cost her around $ 60,000.
Kylie has been accused of going under the knife earlier when she posted online a picture of herself that showed a needle mark near her lips.
At the time, she blasted these rumors saying that she was only 16, and that it's insulting to think that she would do cosmetic procedures at such a young age.
"These plastic surgery rumors hurt my feelings to be honest are are kinda insulting. Just in case anyone forgot... I'm 16," she tweeted.