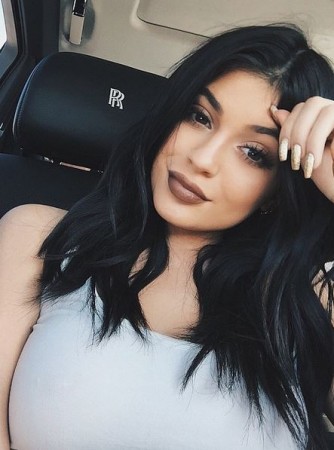 Kylie Jenner's latest post on Instagram has sparked major speculations on if the reality star is all set to walk down the aisle. Or if she is already engaged/married to rapper Tyga?
The "Keeping Up With The Kardashians" star posted a selfie on 21 May, in which she is sporting a gold band on her ring finger. Unlike the other rings, this one looks very similar to a wedding band. And the 17-year-old didn't shy away from flaunting it either.
She shared a number of pictures of her left hand, in which the shiny new ring was seen very clearly. She captioned one of the pictures: "today's feels"
Obviously as expected, users began to question if it was a sign that the reality star had tied the knot.
It wouldn't come as a surprise if Kylie was engaged, as it has been previously reported that Kylie's always wanted the ring, the commitment and the attention that comes with it. She wanted a serious commitment from Tyga.
But it's quite possible that the teen maybe teasing with this ring thing. "However, the ring is likely just a simple piece of jewellery. The band matches the colour and style of the other ring right next to it. She could just be throwing a bit of shade at Tyga's ex Blac Chyna, amidst their ongoing feud," reported Hollywood Life.
Kylie has been subjected to a lot of criticism over the past few months. From being booed at Billboards Music Awards to being dissed by Nicki Minaj in her latest 'Feeling Myself' video — the 'KUWTK' star has really faced it nasty. And it was Tyga who stood up for his girl the entire time.
Kylie and Tyga's relationship has been going through tough testing times. Kris and Bruce Jenner have made it very clear that they are not happy with their daughter's choice of man.
It was previously reported that the teenager's parents are worried whether the couple's relationship will last long. They thought that the eight years age difference between Kylie and Tyga will affect their relationship. And one of their major concerns was their daughter getting caught up in the contentious Tyga-Blac Chyna split.
So is it possible that Kylie Jenner will still go ahead and get engaged to Tyga?