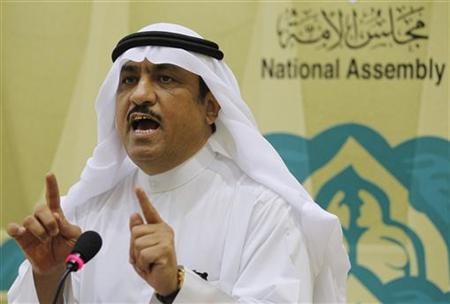 Kuwait's opposition leader Musallam al-Barrak was arrested from his home on Sunday after he was sentenced to two years in jail for insulting the Gulf state's royal family and legal system.
A Kuwaiti appeals court announced the punishment for the speech al-Barrak gave in 2012 before thousands of demonstrators. In his speech, he criticised the ruling Al Sabah family for manipulating the outcome of the elections by changing the electoral laws.
Hundreds of supporters flanked al-Barrak, while security personnel whisked the opposition leader away.
"The appeals court passed a two-year sentence on Barrak," the party said on its Twitter account, AFP reported.
The jailed opposition leader vowed that he would continue his fight to reform the country's electoral system.
"You can jail my body but not my ideas and will," he said. A lower court in April 2013 had initially sentenced al-Barrak to five years in jail on charges of insulting the emir, Sheikh Sabah al-Ahmad al-Sabah.
Hundreds of supporters of the opposition leader had taken to streets, protesting against his arrest and decrying the authorities for curtailing their right to speech. However, the authorities silenced the protesters by using tear gas and stun grenades.
The arrest of the popular opposition leader is being hailed as an ominous act as political experts worry that the events could lead to further civilian unrest in the country.
In July 2012, al-Barrak's supporters had carried out a mass protest after the leader was jailed for five days.
The Kuwaiti authorities have imposed stern measures on the opposition ever since. They have subjected opposition members to jail terms and have even cancelled citizenship of many.
As per the Article 25 of the country's penal code, drafted in 1970, the authorities can jail a person for up to five years for publicly opposing "the rights and authorities of the emir" or finding faults with him.