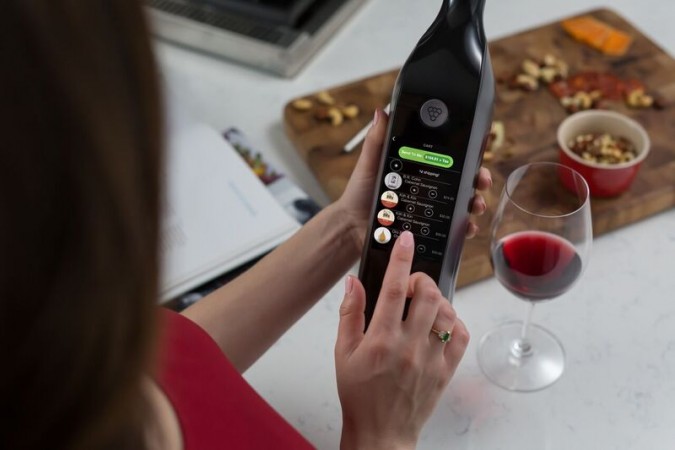 Everybody likes smart things -- from smartphones to watches. Kuvée announced Monday the world's first smart wine bottle, an innovation that claims to keep wine fresh for 30 days. The smart bottle comes with an internet connection and a built-in touchscreen that gives a different kind of experience to consumers.
The company has also announced that it has raised $6 million from General Catalyst, Founder Collective, Bolt and several high-profile angel investors for the venture.
"The U.S. wine industry is growing faster than anywhere else in the world, and the demographics of wine lovers are changing rapidly. But despite these shifts, the industry has been slow to innovate beyond the glass bottle and cork," said Vijay Manwani, founder and CEO of Kuvée Inc, in statement obtained by Market Wired. "Much like a restaurant wine list, Kuvée lets drinkers enjoy a curated selection of wines, one glass at a time, adding a new level of choice, personalisation and convenience to the at-home wine experience."
Kuvée's smart bottle has an opening at its base where a wine cartridge can be fitted before being served. The valve system in the bottle prevents oxygen from getting in contact with the wine, making it stay fresh for up to 30 days after opening. It is compatible with a select wineries from California, including Bonny Doon Vineyard, Schug, B. R. Cohn, Pine Ridge, Atlas Wine Co. and Girard, among few others. A 750ml bottle is priced between $15 and $50 based on wine retailers.
The smart bottles are currently up for pre-orders on Kuvee and Indiegogo websites. It comes with a four wine starter pack for $199, which is $349 of value. The company will ship the smart bottles to California and Massachusetts in October this year and has plans to expand to other markers in December this year and earlier 2017.