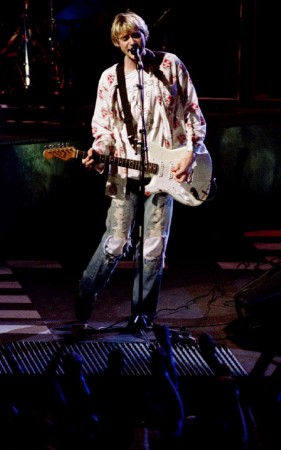 It is the 20th Death Anniversary of legendary musician Kurt Cobain, and on this occasion we take a look back at his life, his rise to his fame and his struggle with difficult times in life that ultimately led to his death.
Even though the Nirvana lead singer died at the tender age of 27, there is perhaps none remembered even today as much as Cobain. Carrie Borzillo from the Bill Board website aptly describes what the famed icon meant to the world:
"Every generation has that one unforgettable death that bears the question, 'Where were you when _____died?'" he writes.
"For baby boomers, it was JFK. For the cool music-minded baby boomers, it was john Lennon. And, for Generation Xers, like myself, it was Kurt Cobain."
Only last month, four undeveloped rolls of film were found sealed in bags in a Seattle police photo lab nearly 20 years after Cobain's apparent suicide. Although police reveled that the new photos were not very different from those from the death scene released years ago, the new revelation has given rise to a conspiracy theory that the musician could have been murdered, according to a report from Seattle Pi.
Police have pledged to re-examine all the evidence in the case, but stopped short of launching a full reinvestigation into the case much to the chagrin of some conspiracy theorists.
However, here we take a look back into the singer's life:
Cobain's Pre-Nirvana Time:
Born in Aberdeen, Washington on February 20 1967, Cobain came from a fairly humble family away from the world of showbiz and music. His mom was a waitress and his dad a mechanic, a fact that has often been cited to underline the fact that Cobain belonged to roots that were not particularly musical.
But his uncle Chuck Frandenburg was a member of a band called The Beachcombers and this undoubtedly became a reason for Cobain to be motivated in music.
However, various reports suggest that Cobain had an interest in art and music from a young age.
His innocence was lost when he struggled to cope with his parents' divorce, which happened when he was only nine. Years later he said: "I had a really good childhood up until I was nine, then a classic case of divorce really affected me." It is reported that he found respite in a guitar that his uncle had gifted him.
He was able to record a few songs after forming his first band, 'Fecal Matter' but the band ultimately split. The records of his teenage days show that the star had been in trouble with police for mischiefs such as spray painting buildings.
Nirvana Days:
Cobain's encounter with Krist Novoselic followed shortly after his first band failed. Novoselic happened to be a fellow devotee of punk rock and the pair reportedly used to practice in the latter's mom's hair salon.
1985 saw the birth of Nirvana, thanks to the hard work of the duo.
Nirvana grabbed a place in the musical scene in the streets of Seattle after the release of its debut studio album, 'Bleach', in June 1989 through the independent record label Sub Pop.
The band rose to fame with "Smells Like Teen Spirit" from its second album called "Nevermind". It is said that the band sold over 25 million albums in the US, and over 75 million in the rest of the world.
It was in fact, his hit "Smells Like Teen Spirit" that later gave him a nickname of 'Spokesman of a generation'.
Cobain's Saga with Courtney Love:
Cobain reportedly met singer Courtney Love at a concert in Los Angeles in 1990. The pair came in the media spotlight and their relationship became almost more popular than their music.
In February 1992, they got married and soon enough had a daughter Frances Bean Cobain.
The pair was widely criticized after Love admitted to using heroin before she was pregnant, in an interview with Vanity Fair in 1992. Their daughter was taken away from them for sometime before being returned eventually.
After the media spotlight rocked their livelihood, the pair's relationship is said to have gone awry with reports that they were even involved in a physical fight where police had to intervene.
On March 4, 1994, Cobain reportedly attempted suicide by taking an overdose of drugs. But he was rushed to hospital in a comatose state.
Cobain's Death:
Cobain was found dead on April 8, 1994, with a shotgun wound to the head. It was later ruled that he had committed suicide.
An electrician called Gary Smith had found his body, when he arrived at the house to do some work. It was later determined that he had taken lethal dose of heroin and had died three days ago, on April 5.
The electrician later told media that he had also seen a supposed suicide note atop a planting soil in the greenhouse. It was revealed that the bottom two lines had said, "I love you, I love you" to someone.
The following are considered the top 10 all time favourite Kurt Cobain Songs:
1. "Smells like Teen Spirit" - From the album Nevermind
2. "Lithium" - Third song from Nevermind released in July 1992
3. "Heart-Shaped Box" -- Released as the first single from the group's third and final studio album, In Utero (1994)
4. "Come as You Are" - Second single from Nevermind
5. "In Bloom" - also from second album although Nirvana had made its first music video for an early version of this song in 1990
6. "All Apologies" - This In Utero ballad is considered one of Cobain's saddest and most beautiful compositions.
7. "Blew" - The opening song on Bleach
8. "Frances Farmer Will Have Her Revenge on Seattle" - which is popular for the line "I miss the comfort in being sad".
9. "Rape Me" - Second single from third album In Utero (1993)
10. "Aneurysm" - Released on the B-side of Nevermind, this song is considered both catchy and confrontational.
Below are the top 10 all time favourite quotes from Kurt Cobain:
1. I'd rather be hated for who I am, than loved for who I am not.
2. Wanting to be someone else is a waste of the person you are.
3. If you die you're completely happy and your soul somewhere lives on. I'm not afraid of dying. Total peace after death, becoming someone else is the best hope I've got.
4. A friend is nothing but a known enemy.
5. I'm so happy because today I found my friends - they're in my head.
6. If it's illegal to rock and roll, throw my ass in jail.
7. The sun is gone, but I have a light.
8. The worst crime is faking it.
9. I like to complain and do nothing to make things better.
10. I bought a gun and chose drugs instead.
(Edited by Vanilla Sharma)