WWE fans across the world are waiting with bated breath what transpires on Monday Night Raw this July 17. Recently inducted into the WWE Hall of Fame and then, appointed as the Raw General Manager, Kurt Angle could seen be entering the world of in-ring action, yet again.
Over the course of the week, several conspiracy theories have cropped up with the mysterious person claimed to be either Stephanie McMahon or one of the members of the tag team American Alpha, Chad Gable.
None of this however seems to be having that kind of a shock effect, it has been predicted.
Angle did mention "I love you" to that person via the phone call made last week on Raw, making fans believe that an incomplete love story from the early 2000s, involving him and Triple H's wife Stephanie, could fuel again, or that there would be a big revelation that Chad Gable is the illegitimate son of Angle with Stephanie.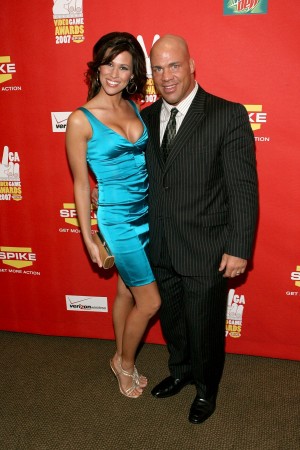 None of the above personalities could be the mystery person, however.
Former general manager of WWE Raw and one of the legends of WCW, Eric Bischoff may have revealed the identity of the mystery person, the whole world is about to know in the coming hours.
None but former TNA President Dixie Carter.
Coming across as a shocker, but this is what the pro wrestling legend did mention in his Bischoff On Wrestling podcast. According to Bischoff, Angle will take to the role that AJ Styles played back in the TNA, while Dixie will be emulating the character played by Claire Lynch.
This is how one of the infamous TNA storylines went: In 2012, it was alleged that AJ Styles and Dixie Carter had a secret affair going on. However, it was learnt later that the two were helping a pregnant woman called Claire Lynch, get rid of an addiction issue.

Claired claimed that Styles was the one who impregnated her and the current WWE SmackDown star had to ultimately go through a paternity test and also take part in one of the best TNA matches against the likes of Kazarian and Christopher Daniels.
It will be interesting to see how WWE goes on with this "rip-off" storyline, as per Bischoff. Reports suggest the re-introduction of Stephanie makes more sense as Angle and Triple H might be headed to a match against each other at WWE SummerSlam 2017 in August.
Watch the mystery finally getting solved on Monday Night Raw
Date: July 17
Time: 8 pm EST (5:30 am IST - Tuesday)
Venue: Nashville
Live on: WWE Network
TV: Ten 1 HD (India), USA Network (US)