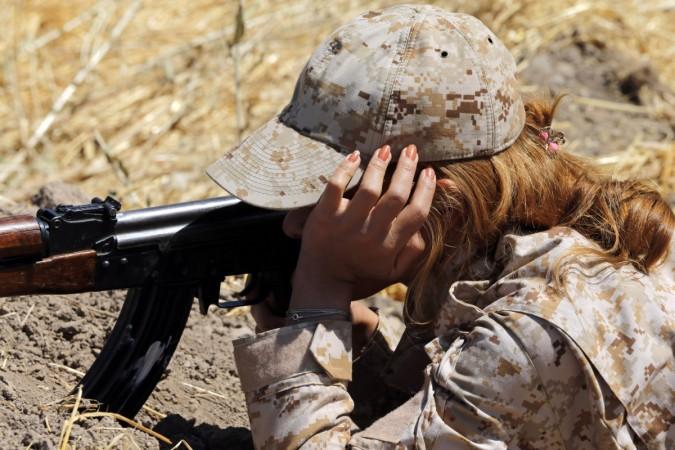 A Kurdish female fighter is gaining popularity and fame in social media after she allegedly killed over 100 jihadists from the so-called Islamic State group, formerly known as ISIS or ISIL. She reportedly killed the militants single-handed in the battle for Kobani.
The fighter, who has so far been known only as Rehana, was first mentioned in a tweet which went viral. It was retweeted almost 4,500 times and 'favorited' over 2,100 times.
Rehana has killed more than a hundred #ISIS terrorists in #Kobane . RT and make her famous for her bravery pic.twitter.com/YvmfXMpuu1

— Pawan Durani (@PawanDurani) October 13, 2014
There are however, some speculation that she has been killed by ISIS. A graphic picture purporting to show Rehana's beheading has also gone viral in online platforms.
The news of Rehana's death and reports claiming she single-handedly killed over 100 ISIS jihadists cannot be independently verified.
Many Kurdish women are known for their bravery and fighting skills after various reported incidents where they showed great strength while attacking the militants belonging to the dreaded Islamic State organisation.
The women belong to the female contingent called the Yekineyen Parastina Jin, or the Women Protection Units (YPJ), which earned international recognition after one of the its fighters reportedly blew herself up in Kobani, killing several Islamic State jihadists.
On Wednesday reports suggested that several hundred people had gathered at a cemetery in the Syrian town to bury four female Kurdish fighters who died there fighting extremists from the group.
There has been no confirmation if Rehana was one of them.