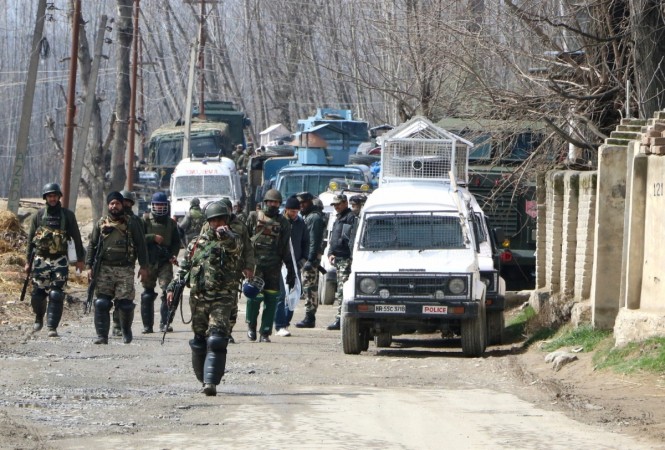 At least three soldiers were killed and five injured after terrorists attacked an Indian Army camp in the Kupwara district of Jammu and Kashmir during the early hours of Thursday morning. Two terrorists have also been gunned down. The deceased include a captain and a junior commissioned officer.
The Army camp was later in the day witness to stone-pelting as protesters gathered at the spot. Army personnel resorted to firing at the protesters, which resulted in one of them being injured. He later succumbed to his injuries.
The attack in the morning took place close to the Line of Control at the artillery headquarters housing 155 Field regiment in Chowkibal's Pangzam area in the Kupwara district at around 4.30 am. The battalion camp that was attacked is responsible for road-opening duties on the crucial roads in the area.
"Fidayeen terrorists attacked the Panzgam army camp close to the Line of Control (LoC) around 4.30 am" Defence Ministry Spokesman, Colonel Rajesh Kalia said. Terror outfit Jaish-e-Mohammed (JeM) is suspected to have carried out the attack, local media reported.
"They hurled grenades and opened indiscriminate fire before barging inside," a police officer told Greater Kashmir. Reports suggest that it was a fidayeen attack. The number of terrorists involved in the attack is yet to be ascertained. According to PTI, one of the deceased has been identified as Captain Ayush.
The encounter has ended. A search operation is underway to flush out terrorists who may be hiding in the area. The five injured jawans "were airlifted" to the Base Hospital in Srinagar for medical assistance.
An official statement issued by the Indian Army said: "Terrorists attacked an Army garrison in Panzgam. Two terrorists have been killed. Three soldiers, including an officer, have been killed. A search operation is underway."
Meanwhile, Home Minister Rajnath Singh has called for a meeting on Thursday to discuss the security situation in the Valley. Several senior officials from the Home Ministry and the Intelligence Bureau are expected to attend the meeting to discuss ways to improve the law and order situation in the state of Jammu and Kashmir.