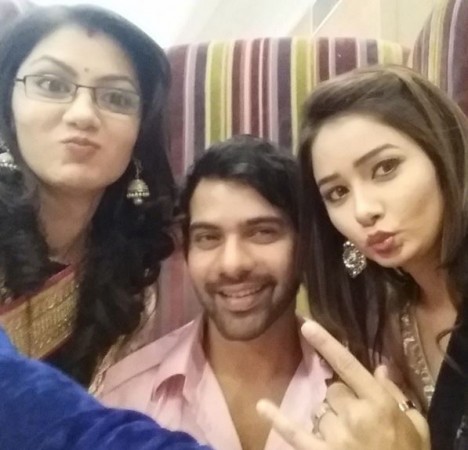 Looks like the makers of "Kumkum Bhagya" are in no mood to end the over-stretched track of exposing Tanu (Leena Jumani) and bringing Abhi (Shabbir Ahluwalia) and Pragya (Sriti Jha) closer.
Despite several attempts, Pragya has not been able to find out who the father of Tanu's unborn child is. The protagonist is also on a mission to prevent Abhi — who thinks he is the father of Tanu's child — from marrying Tanu and save her relationship with Abhi.
In the recent episode, viewers were hopeful Pragya, who secretly followed Tanu and Nikhil, would be successful in finding out the truth. But Pragya once again missed the opportunity to catch Tanu and Nikhil red-handed, leaving viewers disappointed.
Further, Alia (Shikha Singh), who was sent to jail for forgery, which had resulted in Abhi's life turning into hell, has returned to seek revenge on Abhi.
If this was not enough, Sarla, who found out that Tanu was responsible for the troubles in Abhi-Pragya's life, met with an accident and in the recent episodes, the doctors announced she was suffering from paralysis and hence couldn't talk or move.
Sarla's inability to reveal the truth has made it difficult for Abhi-Pragya to get a hold of the antagonists of the show. It now remains to be seen if Sarla manages to inform Pragya about Tanu's truth.
Meanwhile, on Twitter, fans of the show have been expressing their disappointment with the seemingly never-ending track of exposing Tanu and the delay in their favourite couple Abhi-Pragya's reunion.
Kate: "Sorry to say this but I hope #KumkumBhagya loses many viewers (TRPs)! Maybe then they'll change the track. So fed up. (sic)"
Mannu: "I wish i could have a chance to write for #Kumkumbhagya #abhigya 1st i would end tanu track and than i would bring #abhigya together @ZeeTV (sic)"
Ali Siddiqui: "@ZeeTV please finish this ongoing track of kumkum bhagya . everyone is tired and wants to see abhi & pragya reunion .. Its a request .. (sic)"