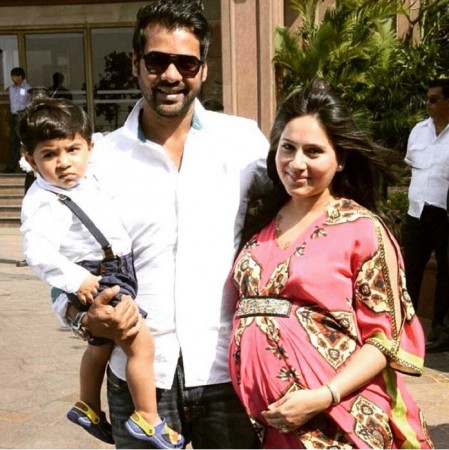 Television actress Kanchi Kaul and husband Shabbir Ahluwalia, popular for his role as Abhi in "Kumkum Bhagya," recently became proud parents for a second time. Kanchi gave birth to a baby boy at a Mumbai hospital on Feb. 18.
And after ten days of the baby's arrival, Kanchi shared the first picture of their bundle of joy on Instagram. The actress, however, didn't reveal the face of the baby. "#madewithlove #itsrainingboys #joy #pure #priceless #perfect #alwaysandforever #touchwood," she posted.
A few days before giving birth to the baby, Kanchi's close friends from the TV industry also surprised her with a baby shower. The gorgeous actress had shared some of her baby shower pictures on Instagram. The couple, who got married in 2011, has a one-and-half-year-old son, Azai.
Meanwhile on "Kumkum Bhagya," major drama awaits viewers in the upcoming episode when Pragya (Sriti Jha) reveals Tanu's truth to Abhi and the reason behind her sudden transformation. She also explains why she, with the help of Daadi, had to devise this plan.
The protagonist takes the drastic step as she realises she lost her sister Bulbul (Mrunal Thakur) in the course of exposing Tanu. She further realised that it has affected her mother Sarla, who is now paralysed. However, to everyone's surprise, Abhi will not believe Pragya, instead of supporting Tanu for the sake of her unborn child. Abhi will also slap Pragya and accuse her of defaming Tanu.