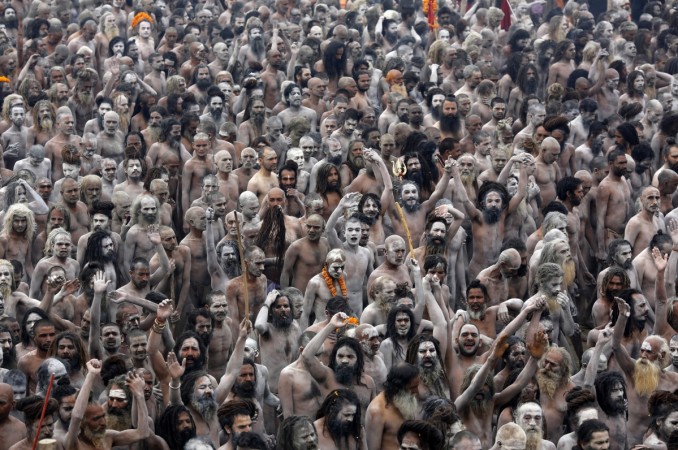 Maha Kumbh Mela, one of the most eventful and significant spiritual get-togethers for Hindus in India is about to get hi-tech, thanks to a bunch of researchers from the Massachusetts Institute of Technology in Bosto, USA.
Held once in 12 years, Kumbh Mela is celebrated in Nasik, Allahabad, Ujjain and Haridwar. Nashik Kumbh Mela of 2015 that is expected to play host to millions of pilgrims, is said to be the experiment ground for MIT researchers who want to use technology and solve all crowd-related challenges and bring a method to the madness, reports DNA.
The team of researchers from MIT had arrived in Nashik in time for KumbhaThon, which was a workshop organised by MIT Media Lab USA, iNDOVATION Nashik and other partners to ideate, find solutions for the problems faced during the grand mela and prototype them.
The first phase, which began with problem identification, focuses on identifying "50 areas where technology can be used for solutions to probable challenges during the Kumbhmela".
"What we were looking for were ideas from various community groups which would facilitate the Kumbh Mela. We then chose problem areas that we could work on as innovators. The engineering students stepped in and took up the areas as problem solvers", stated Sunil Khandbahale, the innovative entrepreneur who initiated KumbhaThon.
The Times of India reports that Ratan Tata, the chairman emeritus of Tata Sons, is among those who are backing the MIT researchers who are seeking to achieve their goal with the help of the many start-ups and eager engineers across India.
Ramesh Raskar, associate professor at MIT Media Lab, who is leading the initiative, expressed his gratitude for Ratan Tata who expressed a personal interest in KumbhaThon: "The Ratan Tata Trust has helped us in a big way, and Tata himself has taken a personal interest in KumbhaThon that is trying to solve real world problems".
Kumbh Mela tends to be a nightmare for pilgrims and authorities alike, with hundreds of women, children and elderly getting stranded in the crowds. The melas are also a breeding ground for diseases, owing to the unhygienic conditions; stampeeds and deaths are considered to be the part and parcel of this spiritual gathering.
Hopefully, Kumbh Mela 2015 would offer a different story as the researchers from MIT and their supporters find ways to tackle the menace.