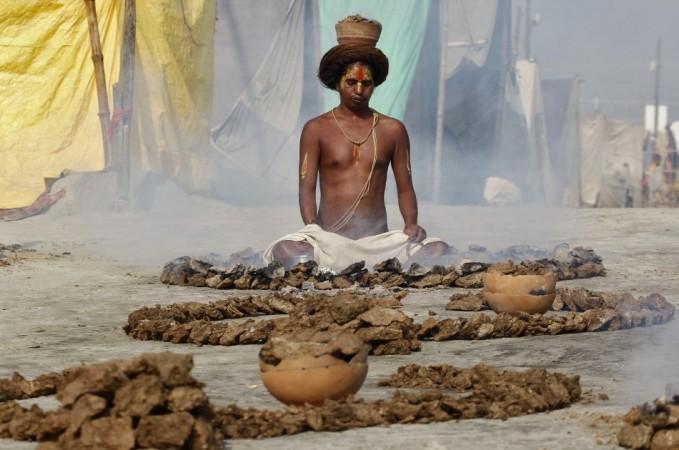 Maha Kumbh Mela, the world's largest religious gathering, is drawing to an end on Sunday on the occasion of Mahashivaratri. Over 50 lakh devotees are expected to take bath in the holy river Ganges on the last day.
The 55-day festival held at Sangam in Allahabad, Uttar Pradesh, began on the auspicious day of Makar Sankranti. Mahashivaratri 'Snan' marks the end of the Maha Kumbh.
Thousands of Naga Sadhus or Hindu-Shaivite ascetics with ash-covered bodies and matted hair are expected to bathe near the Sangam along with an equal number of pilgrims on the final day.
"Over 60 million people attended the festival in 2001 and this time we believe 120 million people have participated," festival chief Mani Prasad Mishra told AFP.
[Check out the pictures of Maha Kumbh Mela 2013 here]
More than 5,000 policemen have been deployed and administration is on high alert foreseeing heavy influx of devotees in the city for last snan.
"Witnessing a huge rush of devotees, we have stepped up vigil and ghats located at sector number 3, 4, 10, 12, 13 and 14 have been taken under scanner. Security has been stepped up in the city especially in temples and Sangam area ahead of the Snan," Divisional commissioner Devesh Chaturvedi told The Times of India.
The two-month-long festival occurs every 12 years at four places - Allahabad, Haridwar, Ujjain, and Nashik. It rotates between these four places every three years. The next festival will take place in 2016 at Ujjain, Madhya Pradesh, on the banks of the river Shipra, where it is also known as "Simhastha".
Check out the pictures of Maha Kumbh Mela 2013 here: