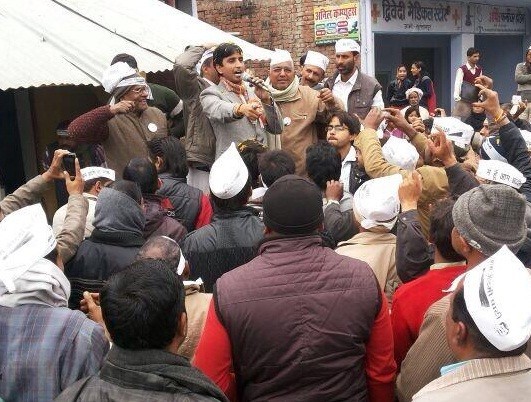 Aam Aadmi Party leader Kumar Vishwas on Saturday made startling claims accusing the Bharatiya Janata Party of offering him the chief minister's post in return for support.
Vishwas said that such an offer was made on 19 May, three days after the results of the general elections had propelled the BJP to victory at the centre, stating that a "friend" from the BJP met him at his residence and assured him that 12 AAP MLAs were willing to 'support the proposal'.
"On May 19, around 10.30 pm, a BJP MP had come over to my house. I met the person because he is a friend. He stayed on till 3.30 am trying to convince me that I should help BJP form the government in Delhi and that they were willing to offer me the CM's post. He claimed that he was meeting me at the behest of top BJP functionaries. He also claimed that 12 AAP MLAs, who did not want reelection, were willing to support the proposal," Vishwas told The Economic Times. He, however, refused to name the BJP member.
Such allegations by AAP leaders, however, are not new, as they had earlier accused the Bhatiya Janta Party of trying to bribe six Congress MLAs by offering ₹20 crore for support and had also alleged that the party had tried to lure AAP MLAs with money as well.
In fact, there were also reports, which suggested that several AAP leaders had 'defected' in support of BJP coming to power in the state that has been headless for several months.
Delhi has been under the President's rule since February, after AAP convenor Arvind Kejriwal resigned just after 49 days of being voted to power in one of the most historic wins for a new party.
Kejriwal had apologized for his decision to resign two months ago and called for people to support his party once again.
The new allegations by Vishwas adds further drama to the political scene in the Capital, with the BJP, Congress and AAP each vying to make the government.
BJP has refuted Vishwas' claims and asked him to name the MP if his allegations were true.
"Even I can claim that Arvind Kejriwal had come to my house and offered to make me the CM. This is just a way of staying in the news. Mr Vishwas should name the MP," BJP national secretary and Delhi MLA RP Singh said.
AAP filed a petition in the Supreme Court, seeking dissolution of the assembly. The apex court then put the onus on the Centre and Delhi Lieutenant Governor Najeeb Jung to resolve the matter.