Pakistan, in a surprising move on Friday, agreed to arrange a meeting between Kulbhushan Jadhav, the former Indian Navy officer held on espionage charges, and his wife on "humanitarian grounds."
A military court in Pakistan had sentenced the 46-year-old to death on April 25 for "espionage and subversive activities." Pakistan had used a video confession of Jadhav to claim that he was a Research and Analysis Wing (RAW) agent. However, India has rejected all the charges and has since approached the International Court of Justice (ICJ) stating that Jadhav was forced to confess on camera.
India has reportedly sought visas for Jadhav's parents, Sudhir and Avantika Jadhav, to visit Pakistan to meet their son.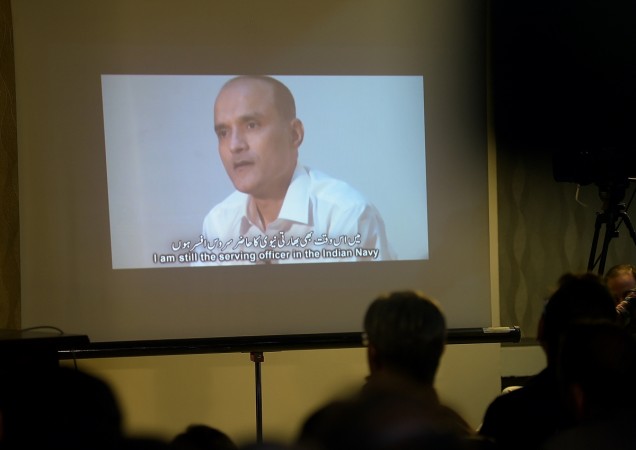 Ministry of External Affairs officials said that the government was considering how to respond to the latest offer made by Pakistan. The government has not yet sought a visa for Jadhav's wife.
Indian Express sources at the ministry described Pakistan's offer as an attempt to counter India's argument at the ICJ in The Hague that Jadhav was not granted consular access in violation of the Vienna Convention on Consular Relations. However, Pakistan's "offer" also suggests that Jadhav is "still alive,"
India had approached the ICJ on May 8 demanding immediate suspension of Jadhav's death. The Hague-based international court has stayed Jadhav's hanging until it gives the final verdict.
Pakistan's foreign ministry issued a statement on Friday, saying: "The government of Pakistan has decided to arrange a meeting of Commander Kulbhushan Jadhav with his wife, in Pakistan, purely on humanitarian grounds. A Note Verbale to this effect has been sent to the Indian High Commission in Islamabad, today."
Pakistan has continuosly referred to Jadhav as "Commander," in an attempt to imply that he was a serving Indian official.
"Commander Kulbushan Jadhav alias, Hussain Mubarak Patel, a serving commander of the Indian Navy, working with Indian Intelligence Agency/RAW was apprehended by Pakistan law enforcement agencies on March 3, 2016 after he illegally crossed over into Pakistan. He confessed before a magistrate and the court that he was tasked by RAW to plan, coordinate and organise espionage, terrorist and sabotage activities aimed at destabilising and waging war against Pakistan," said a Pakistan government statement on Jadhav's arrest.