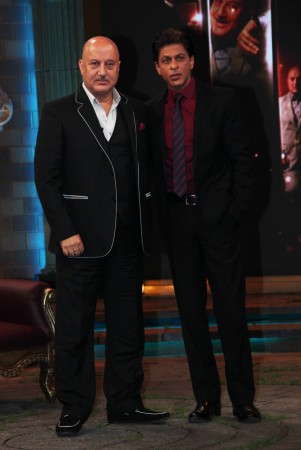 The launch episode of "The Anupam Kher Show – Kuchh Bhi Ho Sakta Hai" offered a bag of surprises as the host got Shah Rukh Khan talking about the hidden chapters of his life.
Celebrity talk shows have been in the TV industry for long, but haven't really made a mark with the audience. "Koffee with Karan" might be a popular show but it is quite loosely scripted with mild surprises here and there.
However, veteran Bollywood actor Anupam Kher's celebrity talk show, which kick-started on 6 July on Colors, looks promising. However, it surely has room for improvement.
"The Anupam Kher Show – Kuchh Bhi Ho Sakta Hai" is inspired by one of his plays and aims to bring to light the least known episodes and experiences of actors from the film industry.
The debut episode with Khan became the talk of the town and was trending on Twitter for a while.
"Thank you so much for such an overwhelming response to the first episode of #TheAnumpamKherShow. I am really happy.:) #KucchBhiHoSaktaHai," an elated Kher tweeted.
As promised, the show did divulge some of SRK's deepest secrets and the conversation sounded more real than ever.
Here are the six facts the show revealed about the country's favourite superstar:
1. He was named Abdul Rehman by his grandmother.
2. His father used to run and manage a canteen at the National School of Drama.
3. He enrolled into an army school so that he could see himself become an army officer. He later opted out because his family wanted him to pursue engineering.
4. He asked Gauri to get married to him after dropping her off at Panchsheel (New Delhi). But surprisingly, did not wait for a response.
5. The first two people to offer him films, while he was shooting for TV show "Fauji", were Harry Baweja and Hema Malini.
6. Post a massive injury, his hopes of building an athletic career was completely shattered. That was when he took to acting.
Apart from these, one of the lesser known facts is that Khan signed five films at the same time and was hoping to work only for a year in the industry.
In a nutshell, the show did achieve what it set out to do – shed light on the lesser known side of a star.
While SRK's episode has been rolled over to coming Sunday, the show will feature a few interesting guests such as Alia Bhatt, Mahesh Bhatt, Akshay Kumar, Kapil Sharma (of "Comedy Nights With Kapil"), Sonam Kapoor, Arjun Kapoor, Yuvraj Singh and many more.