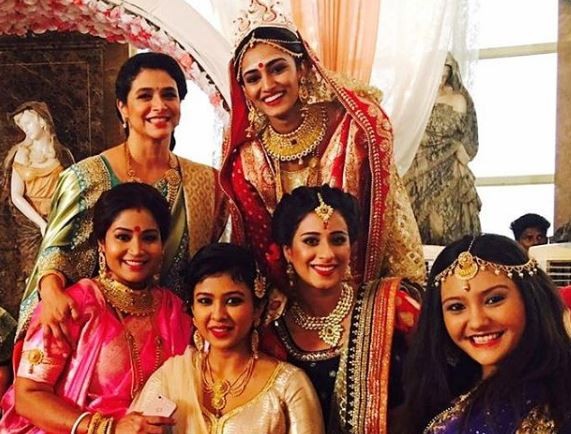 Kuch Rang Pyar Ke Aise Bhi has impressed the viewers with its realistic plot and talented cast and is one of the most loved television shows in recent times. Besides the lead pair of Shaheer Sheikh (Dev Dixit) and Erica Fernandes (Sonakshi), the supporting cast too has been the pillars to the show's success.
The actors not just portray love-hate relationships on-screen, but share a special bond of friendship off-screen as well. Recently, Neha (Cheshtha Bhagat), Asha Bose (Moon Banerrjee), Vicky (Vaibhav Singh), Prerna Panwar (Eleana) and Ranveer (Arjun Anerja) went on club hopping and the actors had shared several pictures from the party on their Instagram pages.
While the viewers of Kuch Rang Pyar Ke Aise Bhi have always seen the cast donning traditional clothes, especially Moon, who plays Erica's mother on the show, it's quite refreshing to see them in their never-seen-before avatar.
In the Instagram pictures, Vaibhav, who plays a negative role on the show, and Arjun and Cheshtha, who essay the role of an estranged couple, are seen spending quality time together with their co-stars.
Meanwhile on Kuch Rang Pyar Ke Aise Bhi, Dev and Sonakshi were seen concerned about Neha and Ranveer's relation. Later, Dev and Ishwari (Supriya Pilgaonkar) were left in shock when they received a legal notice sent by Ranveer to Neha.
In the letter, Ranveer accused Neha of emotionally and mentally harassing him and trying to separate him from his family. An angry Dev made Ranveer pay for his mistake by kicking him out of his job. Dev told Sonakshi that since Ranveer tried to ruin Neha's life, he destroyed Ranveer's life in turn.