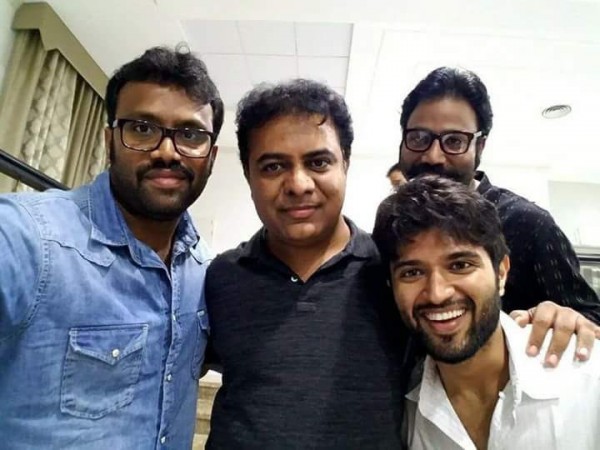 Telangana IT minister KT Rama Rao has lauded Arjun Reddy movie and called Vijay Devarakonda a rockstar. Arjun Reddy has become a sensation in Telugu cinema with many critics calling it a path-breaking and cult film.
Written and directed by Sandeep Reddy Vanga, the film's running length is around 3 hours. The movie has been getting rave reviews from across all section of the film fraternity for its raw and intense content. Previously, filmmaker Ram Gopal Varma in a series of tweets expressed his views on the coming-of-the-age romantic drama and called Vijay -- Telangana superstar.
Raw. Intense. Honest. Original. Bold. Gutsy. Risqué#ArjunReddy

Kudos to Sandeep Reddy & Pranay?

Vijay Devarakonda you're a Rockstar?

— KTR (@KTRTRS) August 27, 2017
In a Facebook post, Ram Gopal Varma said, "I always believed that all the heroes of today are very heavily dependent upon slow motion and ramping shots aided with ear splitting background music to appear heroic. Vijay Deverakonda is the first and only actor I ever saw who looks like a hero without the help of any slow motion or ramping shots..His eyes and his voice themselves emanate a built in background music from within himself."
He also said Vijay is a combination of young Amitabh Bachchan and Al Pacino.
The Vijay Deverakonda and Shalini Pandey starrer was released on August 25. It premiered in over 80 screens in North America on August 24 and fared well at the US box office. The movie collected Rs 8.2 crore gross at the worldwide box office on the first day and Rs 4.50 crore on the second day.
The romance drama's collection remained rock-steady on Saturday and Sunday. Arjun Reddy has collected approximately Rs 13.46 crore total in Andhra Pradesh, Telangana and other parts of India in the first weekend. The film has earned Rs 7.39 crore for the distributors in these areas in three days.
Made on a small budget of Rs 12 crore, Arjun Reddy has fetched Rs 6 crore to its producers from the sale of its global theatrical rights. The movie recovered 100 percent of the investments to its distributors.