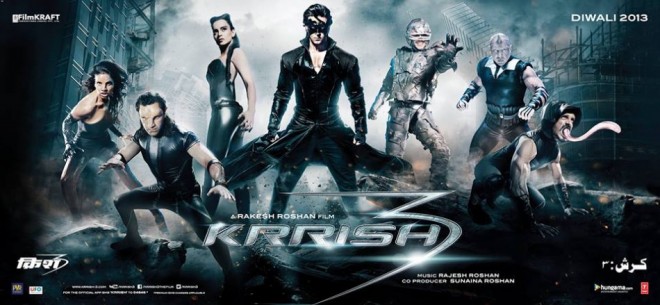 Hrithik Roshan's masked superhero avatar in "Krrish 3" has opened to positive responses from masses and celebrities alike.
The science-fiction genre "Krrish 3", which released on November 1, has garnered pretty good responses and a humongous opening. While some reports stated the superhero-flick's opening witnessed full occupancy in both single and multiplex screens, there were also assumptions that the film would break the "YJHD" and "Chennai Express" opening collections.
Several Bollywood celebrities were also seen praising the Roshan clan's attempt at presenting India's answer to the superhero films.
On Thursday, at the film's screening superstar Shah Rukh Khan warmed up to the "Krrish 3" team.
"I wish him all the best; he is the first superhero of our Hindi film industry. We all inspired from him, I wish Hrithik the best and the whole team all the very best," said SRK to ANI. The superstar's Red Chilles Entertainment had provided the visual effects for 'Krrish 3".
Actor-director Farhan Akhtar was spellbound with the supernatural flick and said, "It will take 2-3 days for me to digest my amusement as I am so shocked to see that a film with such finesse and superior technology can be made in our country now. The techniques and effects which are used in this film can compete with any international film."
"#Krrish3 is a HUGE BLOCKBUSTER!!! The vision, hard work and utmost sincerity of the entire team is apparent right through the film," wrote Karan Johar on Twitter after attending the screening.
He went on to laud Hrithik's stellar performance adding, "Woke up thinking of @ihrithik's...astounding portrayal of Rohit in #Krrish3....his performance lingers long after the lights come on."
"Hrithik, Priyanka, @vivek_oberoi , Kangna, great job done. Enjoyed Krish 3. Movie with world class special effects and an Indian soul." wrote Arshad Warsi, who attended the film's screening with wife and children.
Acclaimed film writer Milap Zaveri impressed with the action sequence of the film wrote, "Still WOWED by the brilliance of #Krishh3 Gotta see it again and this time in a single screen theatre!"
Female lead Priyanka Chopra was gung ho about the film's opening, as she posted on Friday, "What a wonderful start to Dhanteras, 'Krrish 3' with phenomenal opening numbers...I'm shaking with nervousness...on a non-holiday this is fabulous."
As for the film's evil genius 'Kaal', played by Vivek Oberoi, it was praises all the way. Humbled at the response, Vivek wrote on his account, "Thank you all so much for the heartwarming comments about #Krrish3! I'm humbled, honoured & so touched by all your sweet messages!"
On Saturday, trade analyst Taran Adarsh reinstated "Krrish 3"s roaring streak at the Box office as he wrote "Despite pre-Diwali phase, #Krrish3 fetches a flying start at the BO. Yes, pre-Diwali festivities have affected, but biz is rocking."
The Diwali weekend will decide the sci-fi film's fate and, if such praises continue, the film is expected to make new records.