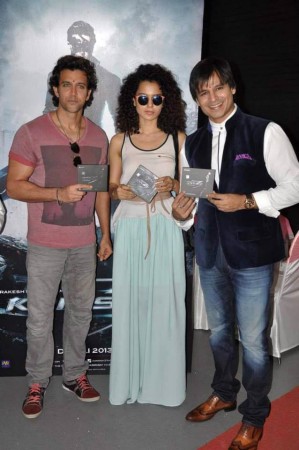 In "Krrish 3" Hrithik Roshan will reportedly romance both Kangana Ranaut and Priyanka Chopra, giving us a twist in the love story.
Shortly after the new stills from the eagerly awaited "Krrish 3" were released, an interesting point which came up is the Hrithik-Kangana pairing. To confirm further, a look at the film's romantic ballad "Dil Tu Hi Bata" resolves all doubts. The song picturised in the exotic locations of Jordan has Hrithik romancing an overtly garish looking Kangana.
Rumours of the duo pairing up for "Krrish" emerged when "Krrish 3" Jukebox had Hrithik and Kangana playing lovers.
Filmmaker Rakesh Roshan refused to divulge any details when asked of the Hrithik-Kangana romance angle in 'Krrish 3".
"You have to watch the film to know what's really happening. All I can say is that it has been nice working with Kangana. She is very talented," Rakesh Roshan told Hindustan Times.
Now with the romantic angle, we can assume that Kangana's role in "Krrish 3" role is more than that of the villain's aide. The first look of the film's trailer had presented the actress in a 'cat-woman-meets-black-widow' look and had garnered much attention. She will reportedly act as an aide to arch nemesis 'Kaal' played by Vivek Oberoi.
Kangana had previously romanced Hrithik Roshan in the box office dud "Kites" in 2010.
Watch Hrithik romacing Kangana in the song "Dil tu hi bata" from "Krrish 3".