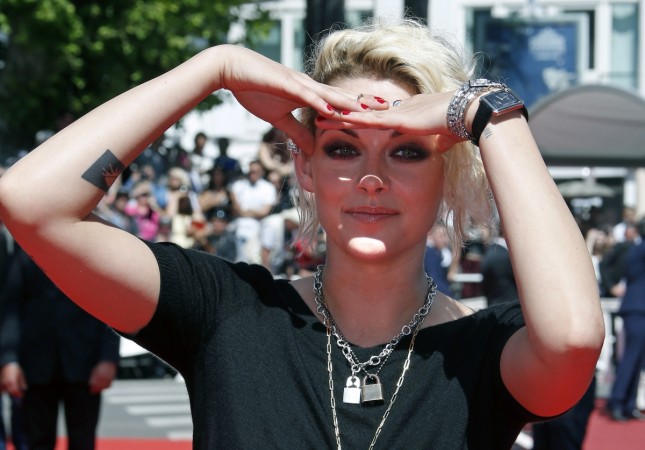 Kristen Stewart and Alicia Cargile, her rumoured on-again off-again girlfriend, were spotted paying a vist to John Stewart in Studio City, California, on Sunday on the occasion of Father's Day.
Paparazzi caught the couple in good spirits as they headed off together after visiting the "Twilight" actress' dad. Both Stewart and Cargile were dressed casually, with the former opting for a white T-shirt and rolled up denims and Cargile in a green polo shirt and grey pants.
Stewart and Cargile have been inseparable since rekindling their romance in April, shortly after Stewart broke up with French singer Soko. What went wrong between Soko and Stewart remains a mystery, but Soko had hinted at her girlfriend being unfaithful.
"CHEATER. F***ing CHEATER," Soko reportedly tweeted and deleted shortly after their break up, reported Yahoo! In another message posted on her Instagram page, which was also deleted, Soko apparently stated that she will "marry the strongest and most reliable of them all, one that doesn't cheat, one that isn't deceitful… and knows how to live a good, healthy and simple life."
Meanwhile, a HollywoodLife source pointed out that meeting Robert Pattinson at the Met Gala last month was an eye-opener for Stewart and made her rethink her relationship with Soko. "Seeing Rob at the Met Gala helped Kristen come to terms with ending her relationship with Soko. She realized that she still hasn't found that deep connection with anyone since she was with Rob," an insider told HollywoodLife.
"He was like her soulmate and that's what she's looking for in a relationship. Hanging out with Rob, even for just a small amount of time, reminded her that what she's really yearning for is a soul bond. She's ok with holding out until she finds that kind of love."
It looks like Stewart has finally found that person with whom she shares a stronger bond.