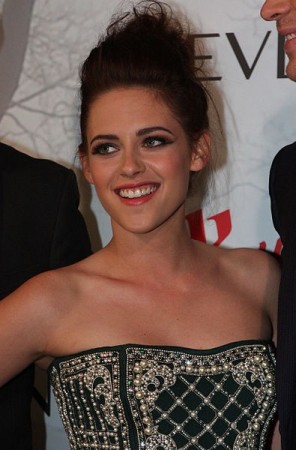 Robert Pattinson is reportedly back in California after a month-long shooting stint abroad, and Kristen Stewart, who turns 24 today (April 9), wants nothing more than to celebrate her birthday by hanging out at the Coachella Music Festival with her friends and on-again, off-again boyfriend.
Stewart and Pattinson have been regulars at the music festival, which will kick off on April 11, and this time too, the "Twilight" actress hopes to continue the tradition.
"Kristen is planning a weekend-long birthday celebration with friends at Coachella," a source close to Stewart told HollywoodLife. "Ellie Goulding and Kate Nash will be performing and Kristen loves, loves loves Coachella. "She wants Rob to come as well. It's going to be so awesome cause so many amazing performers are going to be there and it's something we all do together every year."
The annual two weekend three day music festival will feature some of the biggest names in the music industry such as Lana Del Ray, Kid Cudi, Pharrell Williams, Arcade Fire and Beck among others.
However, on the day of her birthday the duo might not be together as Stewart is believed to be in New Orleans gearing up to film "American Ultra". The indie action-comedy movie features Jesse Eisenberg, who had previously worked with Stewart in 2009 comedy "Adventureland", and shooting is expected to commence from April 14.
Meanwhile, Pattinson, too, seems to have his plate full as shooting of his movie "Life" is not yet over.
"Rob is back in town and he's super psyched to spend some quality time with Kristen. He just arrived to film some scenes for the movie Life, which he was working on in Toronto," an insider told HollywoodLife.
It has been more than a year since the couple called it quits, and although fans had been hoping for a reunion, sources close to the couple said that romance is not on the cards.
(Edited by Vanilla Sharma)