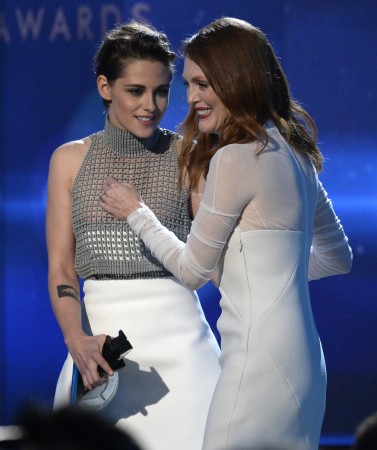 Wardrobe malfunctions have become a constant at red carpet events, and the latest victim is Kristen Stewart, who suffered a nip slip at the 2014 Hollywood Film Awards on Friday.
The embarrassing incident took place when Stewart, who was wearing a white strapless frock with a chain mesh turtleneck crop top, went on stage to present an award to her "Still Alice" co-star Julianne Moore, reported E!News.
The nip slip appears to be an accident, but because it happened just a few days after Jennifer Lawrence's ill-fated wardrobe malfunction, comparison with the "Hunger Games" actress has been inevitable. It also raises doubts on whether Stewart is trying to ape Lawrence, and if the nip slip was a ploy to garner media attention.
Lawrence's embarrassing wardrobe malfunction on 11 November at the premiere party for "The Hunger Games: Mockingjay – Part 1" in London is still in the news, giving the actress and her upcoming movie a lot of press coverage. And Stewart could do with some media attention, as her films haven't been generating a lot of hype ever since the "Twilight" franchise ended in 2012.
Both Lawrence and Stewart exploded on the acting scene at about the same time, and while Lawrence is celebrated as a likable star, the same cannot be said of Stewart, who is often viewed as grumpy.
But in recent times, Stewart seems to be making an attempt to be more or less like Lawrence, and the first step was changing her hair to a short cropped pixie cut, similar to the one sported by the "X-Men" actress.
On the relationship front, Stewart is reportedly dating Nicholas Hoult, who is Lawrence's ex-boyfriend.
Stewart and Hoult "really bonded with each other" while filming Equals, a source told HollywoodLife, adding: "Kristen and Nick are inseparable. They are constantly hanging out together when they aren't on set. They've really bonded with each other and are like best friends now. It wouldn't surprise any if us if it turns into something more serious, something romantic.
"When Kristen is on location for long periods of time, she usually has a good friend come stay with her but not this time cause she has Nick," the source dished out in September. "They love playing practical jokes on the cast and crew, playing pool, just exploring and hanging out."