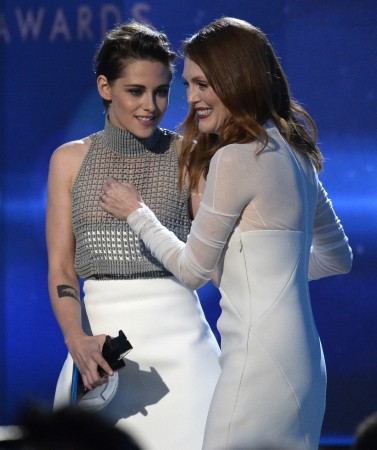 Kristen's Stewart's wardrobe malfunction at the Hollywood Film Awards last weekend has not rattled the actress, and she does not feel it's a big deal as she has gone through worse.
Stewart's nip slip while on stage to present an award to Julianne Moore garnered her a lot of press, and reportedly, her ex-boyfriend Robert Pattinson was among the audience when the unfortunate incident happened. But Stewart has already gotten over the wardrobe malfunction.
"She is not worried about it. It's not a big deal," a source revealed to HollywoodLife. "If people want to see her naked she'd rather it be from the movies she has done with nudity but this happened and she has already forgotten about it."
"It's not like the Fappening and certainly not the worst thing cameras have caught from her. Not a big deal at all."
So what are the worst things cameras have caught Stewart doing?
The first and foremost would be her cozying up to her "Snow White and the Huntsman" director Rupert Sanders while still involved with Pattinson. In July 2012, Us Weekly published photographs of Sanders, who was married to Liberty Ross at the time, and Stewart "kissing like crazy" in her car.
"Kristen was sitting with her back up against that driver's-side window, and this guy was kissing her entire body," a witness told the magazine. The two were reportedly so caught up in the moment and they exercised some caution only when they felt someone was passing by.
Later on, they were spotted in a secluded park-like area and the photograph showed Sanders embracing Stewart from behind. "He seemed more cautious," the witness told Us. "She was lost in the moment. It was clearly all she was thinking about."
Although both Stewart and Sanders apologised for their indiscretion, their relationships with Pattinson and Ross respectively did not survive the cheating scandal.
It is not immediately known if Stewart is romantically involved with anyone, but her name has been linked to Nicholas Hoult, Jennifer Lawrence's ex, ever since they co-starred in "Equals," a futuristic love story.