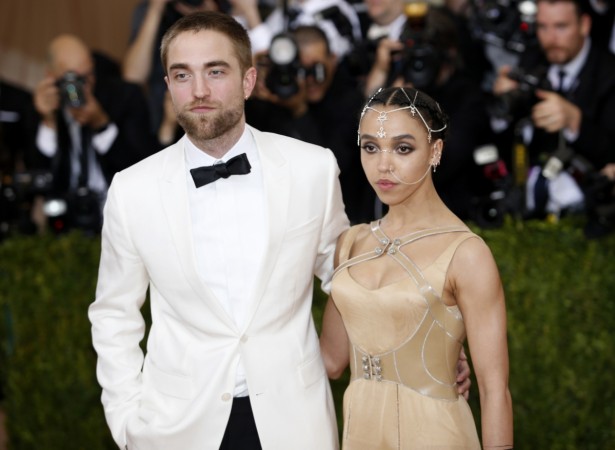 "Twilight" stars Kristen Stewart and Robert Pattinson might have broken up three years ago, but it seems the duo still shares similar taste with regards to fashion. The two were in attendance at the Met Gala on Monday, and both Stewart and Pattinson were spotted rocking similar earrings. This was noticed by an eagle-eyed fan, who took to Twitter to point out the similarity in their accessories.
Click here to check out the image.
Pattinson was accompanied by his fiancée FKA Twigs, but Stewart's rumoured girlfriend Soko was absent.
Stewart and Pattinson's attendance at the Met Gala has caused quite a frenzy on Twitter, with many fans pointing out that this is the first time they are going to be in the same place at the same time since their split. "Both Robert Pattinson and Kristen Stewart are going to the Met Gala. I'm sensing a Twilight reunion," one fan wrote. "So Kristen Stewart & Robert Pattinson finally attended the same Met Gala, just not together. 15/16yo me would've cried her eyes out," another noted.
This year's Met Gala also included yet another face from Stewart's past — Liberty Ross. Stewart's affair with Liberty Ross' then husband Rupert Sanders was what caused Pattinson to call off his relationship with his "Twilight" co-star.
In a 2014 interview with Harper's Bazaar, Ross said she wasn't holding any grudges against Stewart for getting involved with her husband. "People need to learn to forgive. I have no problem with anyone involved. I'm completely compassionate, I really am. No life is perfect, we all have our problems and issues and I believe that it's good to be true to who you are."
Besides, she also hinted that her relationship with Sanders had begun to stagnate. "Rupert and I were together since we were very, very young. I was 18 — essentially, I married my first boyfriend. I always used to say we were more like brother and sister anyway. We'd been together for so long, we weren't really evolving together as a couple so much."