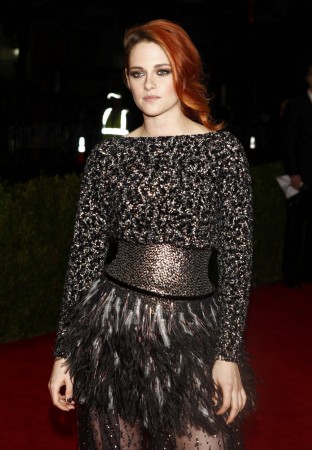 "Twilight" actors Kristen Stewart and Robert Pattinson might have called it quits on their relationship a while back, but the couple's romance, or the lack of it, continues to gain media attention much more than any aspects of their careers.
So it is not surprising that every time Pattinson is spotted with a girl, speculations start swirling around if there is indeed a romance brewing between the British actor and the girl of the moment.
Riley Keough, Katy Perry and Imogen Ker have all been linked to the actor, and if a recent OK! Magazine report is to be believed, Stewart is not happy about these dating rumors. She reportedly left an angry voicemail for Pattinson demanding why he is dating fellow celebrities who are her friends.
"Kristen thinks Rob is hooking up with them purposely to punish her for the way their relationship ended — and she's ticked. She flipped out on his voicemail. There are thousands of girls in L.A. Why does Rob need to hook up with her friends? He's got to stop using her circle as a dating pool," a source told the magazine, according to Celeb Dirty Laundry.
Interestingly, Pattinson has not confirmed that he is dating any of the aforementioned girls, although he has been pictured hanging out with them.
His latest link up was with Ker, who was introduced to Pattinson by his Twilight co-star Dakota Fanning. Ker is said to be a friend of Stewart. In early May, Pattinson and the upcoming model were photographed leaving Little Door restaurant in Los Angeles.
Last July, Pattinson was linked to Elvis Presley's grand daughter Keough, and they are said to have bonded over their mutual love for music. Pattinson was introduced to Keough by Stewart on the sets of "The Runaways" and when reports emerged that the two are dating, many accused Keough of breaking the girl code.
And when Stewart reportedly told Pattinson about feeling violated, he decided to terminate his relationship with Keough, a HollywoodLife report noted.
"He doesn't want to be 'that guy.' He doesn't want the image of him being that he is stealing her friend in the wake of the relationship with Kristen," an insider told the website. "He loved Kristen and always will look at her fondly, but he doesn't want to be defined by her, and by dating Riley it would only continue the link to Kristen."
Meanwhile, Pattinson and Perry, who have been friends for long, have been linked on and off ever since his relationship with Stewart ended following her affair with director Rupert Sanders.
Although Perry, who is also Stewart's friend, has often stated that Pattinson is just a friend, multiple reports have commented that they have a strong sexual tension.
In April, they were even photographed kissing at the Coachella Music Festival.
"He planted it on her," a source said, according to HollywoodLife. "At one point, they held hands. He was like a puppy dog around her."
"There is so much sexual tension between them," another insider pointed out. "Something was bound to eventually happen."