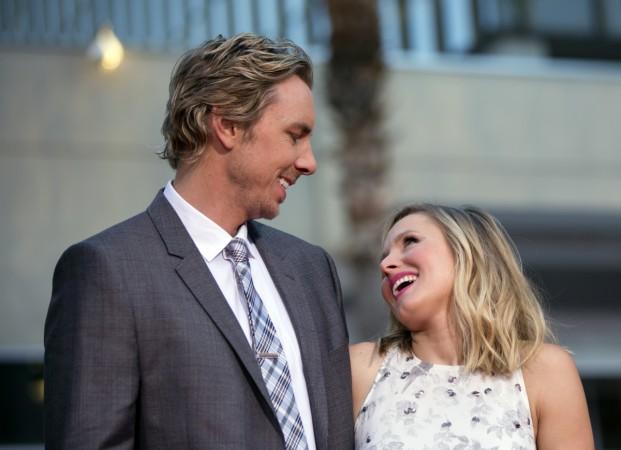 "When in Rome" stars Kristen Bell and Dax Shepard welcomed their second baby girl on 19 December.
Bell announced the news through Twitter by posting a picture of a primate parent holding its baby's hand and writing: "The estrogen has now hit critical mass! Good luck, @daxshepard1. And welcome to the world DELTA BELL SHEPARD :)"
The proud father also took to Twitter and said: "Delta Bell Shepard is here. She doesn't look like either ?@IMKristenBell? or me, but we're gonna keep her anyway. ?#christmascameearly?"
A representative for the couple told US Magazine: "The whole family is beyond excited."
Shepard and Bell met at a mutual friend's birthday party in 2007 and announced their engagement in 2010. They decided to wait to get married to show their support for same-sex marriage legalisation in California. The couple welcomed their first daughter Lincoln Bell Shepard in March 2013 and married in October 2013. In June, this year, Bell and Shepard announced that they were expecting another child.
Despite the inclusion of a younger member, Lincoln will still get to be the first choice. "We were told to pick up the oldest first if both are crying," 34-year-old Bell told PEOPLE in November. Lincoln is 21 months old now and hopefully will be a great elder sister.
Bell was not shy of showing off her baby bump during her pregnancy and in many reports she was labelled as "stunning" as well. During her pregnancy, the actress-cum-singer revealed that she and Shepard were stuck on a name for the baby. "[We're] completely stumped," she said in July.
But, eventually they settled on a name and let the world know that. In September, the mom-to-be said: "We've settled on one, thankfully. It's a lot of pressure, especially because we felt Lincoln was so perfect."
In a tweet just days before Bell went into labour, Shepard shared a video of Bell bouncing on a ball to kickstart the labour. He wrote: "Certain members of the family are READY for other members of the family to kindly exit their body: http://youtu.be/3KAEXh7timI @imkristenbell"
The video is below: