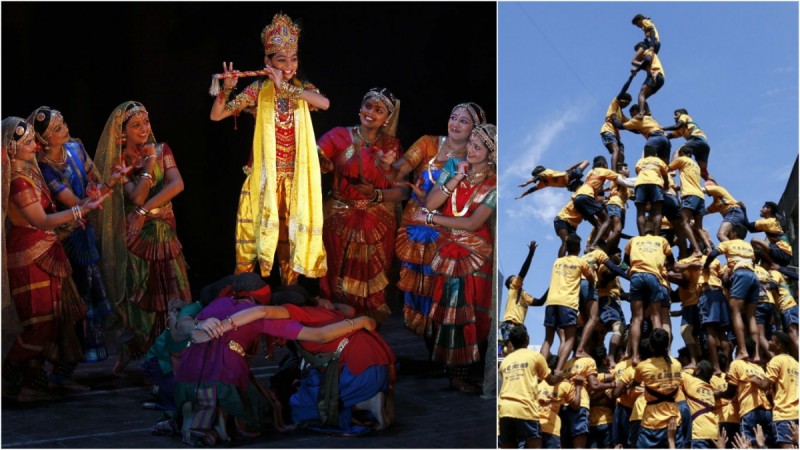 Hindus across the globe celebrate the birth of Lord Krishna with gaiety and piety with temples being decorated with flowers and colours.
Lord Krishna's birth is celebrated annually across the world, but the celebration and customs differ from place to place. But universally, his devotees celebrate by fasting, worshipping him, staying up until midnight and offering special prayers at midnight. Lord Krishna is supposed to have been born at midnight.
SEE PICS: Muslim children put on Krishna Avatar to celebrate Krishna Janmashtami
The devotees sing and dance to devotional songs about him and his childhood.
Holy places associated with Lord Krishna's birth and childhood are Mathura and Vrindavan. Dwarka is another place that is associated with Krishna, as it is believed that he established his kingdom there.
READ: Sri Krishna Janmasthami 2016: How the lord's birthday is celebrated in Udupi?
Krishna Janmashtami live streaming
Devotees unable to go to these holy places can now sit in the comforts of their home and see the special decorations and pujas that are part of the traditions in celebration of his birth.
Doordarshan (DD) and National Channel (DD1) will telecast the special pujas held at Mathura and Dwarka.
Mathura Krishna Janmashtami live telecast:
Meanwhile, DD1 will live telecast Janmashtami celebrations from Mathura 11.30 p.m.
DD Bharti will be telecasting Abhishekam, Aarti of Lord Krishna in Mathura.
Vrindavan Krishna Janmashtami live telecast:
Sri Shankara TV had earlier telecasted Krishna Janmashtami events from Vrindavan.
Dwarka Krishna Janmashtami live telecast:
Live webcast of Dwarka Krishnajanmahotsav 2016 at 11.30 p.m. (Aug. 25) on Sri Dwarkadhish Jagad Mandir website.
DD Girnar (Gujarati) website will also be live streaming special arathi at night.
Art of the Living live webcast:
Art of the Living, a spiritual and cultural organisation based in Bengaluru will be hosting Krishna Janmashtami in the presence of its founder and spiritual leader, Sri Sri Ravi Shankar.
The Art of the Living centre in Bengaluru will be webcasting live event from 6:30 p.m. on Aug. 25.
ISKCON temple Krishna Janmashtami celebration live streaming:
Popular ISKCON temples in Mumbai and Bengaluru too will be webcasting the Krishna Janmashtami celebrations.
Additional live streaming information will be added as we get more updates.