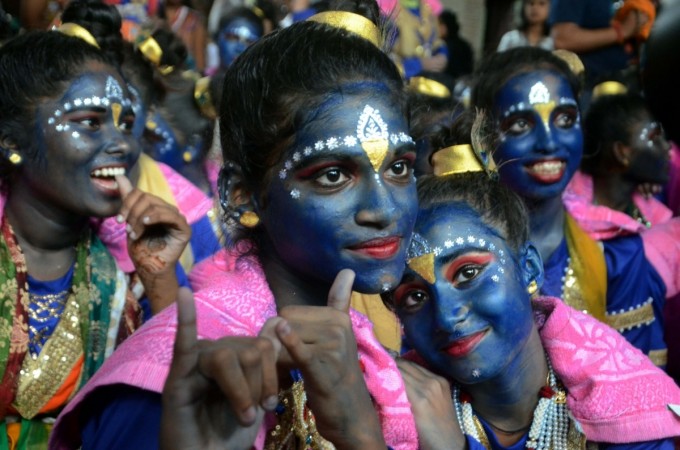 Janmashtami is an annual festival that marks the birth of Lord Krishna in India. Sri Krishna Janmashtami is celebrated by millions of Hindus across the globe with religious fervour.
The festival unites the country, with people reliving Krishna's mischievous childhood stories and the philosophical speech to Arjuna on the battlefield that is known as the Song of God or the Bhagavad Gita. The celebration is marked by fastings, pujas, bhajans, rasaleela, theatrical shows, distribution of sweets and the dahi handi ritual.
India's leading e-commerce website, Flipkart, has also offered its customers some special offers on specific products on the occasion of Janmashtami. The items are catalogued under the title, Janmashtami Special.
Customers looking for festival-related items as gifts can head directly to the site.
Here are the items on offer on Flipkart:
Krishna Idols
Aakrati Radha Krishna Pair Made of Brass Showpiece - 7 cm (Brass, Yellow) – Rs. 389 (56% off)
Aakrati Lord Krishna Ware Statue Showpiece - 29 cm (Brass, Yellow) – Rs. 2099 (55% off)
Divinecrafts White Metal Standing Radha -Krishna Showpiece - 15 cm (Aluminium, Silver) – Rs. 419 (58% off)
eCraftIndia Decorative Radha Krishna Pair Showpiece - 12 cm (Brass, Gold, Brown) – Rs. 599 (66% off)
eCraftIndia Radha Krishna Statue with Cow Showpiece - 13.97 cm (Aluminium, Silver, Red) – Rs. 529 (76% off)
eCraftIndia Bal Gopal Having Makhan Showpiece - 10.16 cm (Aluminium, Silver, Red) – Rs. 558 (62% off)
Krishna Wall Decor
Aquire Tiny PVC Vinyl Sticker (Pack of 1) – Rs. 199 (69% off)
Aquire Large PVC Vinyl Sticker (Pack of 1) – Rs. 199 (69% off)
SAF Radha Krishna Ji Texture Print With UV Canvas Painting (19 inch x 13 inch) – Rs. 509 (63% off)
Feelings Analog Wall Clock (Multicolor, Without Glass) – Rs. 399 (50% off)
SAF Radhey Krishna Religious Ink Painting (18 inch x 12 inch) – Rs. 518 (42% off)
SAF Set of 3 Radhe Krishna Digital Reprint Painting (14 inch x 20 inch) – Rs. 519 (71% off)
SAF Krishna Ji Oil Painting (11 inch x 11 inch) – Rs. 309 (65% off)
SAF Radha Krishna Oil Painting (12 inch x 12 inch) – Rs. 309 (65% off)
eCraftIndia Radha Krishna Canvas Painting(11 inch x 11 inch) – Rs. 351 (60% off)
SAF Shri Krishna Texture Print With UV Canvas Painting (13 inch x 19 inch) – Rs. 559 (65% off)
DeStudio Large Wall Sticker (Pack of 1) – Rs. 299 (50% off)
eCraftIndia Lord Krishna Iron Key Holder (3 Hooks, Multicolor) – Rs. 697 (50% off)
Divinecrafts Krishna Playing Flute Canvas Painting (18 inch x 12 inch) – Rs. 459 (71% off)
Divinecrafts Radha Krishna Digital Reprint Painting (18 inch x 12 inch) – Rs. 459 (64% off)
Krishna Dress
KK Creations Laddu Gopal Dress (Terracotta) – Rs. 434 (60% off)
KK Creations Laddu Gopal Dress (Terracotta) – Rs. 135 (60% off)
KK Creations Laddu Gopal Dress (Terracotta) – Rs. 230 (60% off)
KK Creations Laddu Gopal Dress (Terracotta) – Rs. 185 (60% off)
Mahashringar Laddu Gopal size (0&1) Dress – Rs. 349 (53% off)
Sanshiv Krishna Dress (Feather, Silk) – Rs. 1,350 (38% off)
Sanshiv Krishna Dress (Silk) – Rs. 1,800 (28% off)
Creative Vision Radha Krishna Dress (Silk) – Rs. 1,551 (56% off)
Creative Vision Radha Krishna Dress (Silk) – Rs. 2,093 (56% off)
Divyshringar Radha, Krishna Dress (Cotton) – Rs. 590 (26% off)
Niranjana Urban Life Krishna Dress (Silk) – Rs. 149 (25% off)
Rangoli Stencils
Nandini Selfie Decorative Green MMRS 016 Rangoli Stencil – Rs. 550 (38% off)
Odisha Bazaar HYA135 Rangoli Stencil – Rs. 399 (55% off)
Suman Creations S289 Rangoli Stencil – Rs. 499 (50% off)
Vision Sale vs009 Rangoli Stencil – Rs. 499 (66% off)
Suman Creations S550 Rangoli Stencil – Rs. 649 (50% off)
Narbman Desert lifestyle RD_A5 Rangoli Stencil – Rs. 450 (54% off)
Store Utsav Rangoli 826 Rangoli Stencil – Rs. 529 (41% off)
Sukkhi Rg1056d1100 Rangoli Stencil – Rs. 599 (65% off)
DivyaKala dk03 Rangoli Stencil – Rs. 199 (31% off)
Pooja Thali Sets
eCraftIndia Papier-Mache Elegant Multiutility Wooden Pooja & Thali Set (1 Pieces, Multicolor) – Rs. 993 (50% off)
eCraftIndia Roli Tikka Ceramic, Wooden Pooja & Thali Set (1 Pieces, Yellow, Red, Green) – Rs. 427 (71% off)
Divinecrafts Makrana Marble Kundan Studded Multiutility Marble Pooja & Thali Set (1 Pieces, Multicolor) – Rs. 699 (56% off)
Itiha Gold Plated Pooja & Thali Set (1 Pieces, Multicolor) – Rs. 224 (55% off)
Bhavikaa Brass Pooja & Thali Set (3 Pieces, Gold) – Rs. 299 (62% off)
GS Museum Silver Plated Pooja & Thali Set (1 Pieces, Silver) – Rs. 411 (62% off)
Artistic Handicrafts Shinning Brass Pooja & Thali Set (6 Pieces, Gold) – Rs. 499 (75% off)
RajLaxmi Marble Pooja & Thali Set(3 Pieces, Yellow, White) – Rs. 374 (67% off)
RajLaxmi Kundan Wooden Pooja & Thali Set (1 Pieces, Yellow) – Rs. 974 (51% off)
GoldGiftIdeas Sarovar Silver Plated Pooja & Thali Set (12 Pieces, Silver) – Rs. 999 (50% off)
Unique Arts PinkPlastic Plastic Pooja & Thali Set (2 Pieces, Pink) – Rs. 299 (70% off)
GoldGiftIdeas Swastik Silver Plated Pooja & Thali Set(8 Pieces, Silver) – Rs. 731 (51% off)