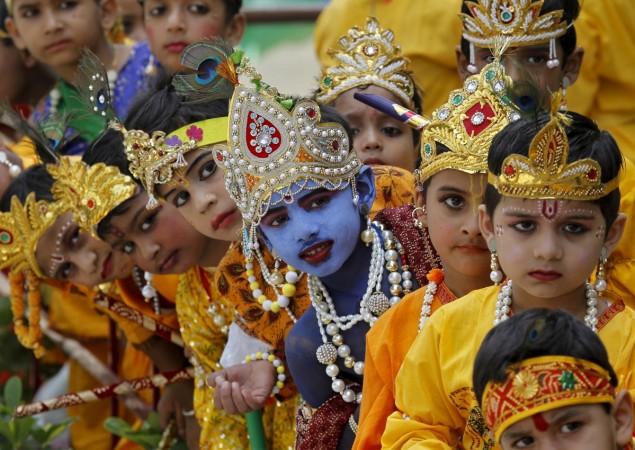 Happy Srin Krishna Janmashtami 2016!
Devotees all over the world are set to celebrate the birth anniversary of Lord Krishna — Krishna Janmashtami — on Thursday, Aug. 25 this year. The auspicious festival is observed on the eighth day of Shravan month (August–September) as per the Hindu calendar.
The eighth avatar of Vishnu was born to king Vasudeva and Devaki of Mathura, and the festival is also known as Sri Krishna Jayanthi, Saatam Aatham, Gokulashtami and Ashtami Rohini.
One of the major attractions of the festival include Rasa lila or Rasa dance, which is mainly performed in Mathura and Vrindavan describing the story of Krishna who dances with Radha and her companions. Another ritual that is followed as part of Krishna Janmashtami is Dahi Handi or uriadi, during which young men break the hanging pot of butter by forming human tower. It is observed to celebrate the Lord's mischievous act of stealing butter. As part of the celebration, children dress up as Krishna and Radha to take part in processions and competitions.
Gallery: Kids in Krishna Avatar
Ashtami Thithi begins on Aug. 24 at 10:17 p.m.
Ashtami Thithi ends on Aug. 25 at 08:07 p.m.
"I convey warm greetings and good wishes to all my fellow countrymen on the joyous occasion of Janmashtami. Lord Krishna's life and teachings emphasize the importance of performing one's duty without thought of reward, of different paths leading to the same goal and of the importance of ethical and moral values to society. On this auspicious day celebrating the birth of Lord Krishna, let us commit ourselves to following the path of virtue and righteousness in thought, word and deed," reads the greetings from Indian President Pranab Mukherjee.
Check out wishes, messages and greetings to be shared on Krishna Janmashtami 2016:
May Lord Krishna bless you abundantly to lead a prosperous life with all the delights of life. May your dreams come true. Wishing you the greetings of Krishna Janmashtami 2016.
May Lord Krishna bring happiness in ur life and hatred away from ur life. Enjoy Janmashtami with heart full of love. Happy Janmashtami greetings.
May Lord Krishna's flute invite the melody of love into your life.
May Radhaji's love teach you to love!
Happy Janmashtami.
Here is a special day to spend with your family and friends,
A fun day to celebrate the birth anniversary of Lord Krishna,
Wishing you a cheerful day,
With the greetings of Janmashtami.
Today is a special day for us,
As our Lord Krishna was born on this day,
He was born to fight against inhumanity,
And to save each one of us from evils.
Happy Janmashtami 2016.
Like now, always be a devotee of Lord Sri Krishna, who will guide you in right path.
May he shower you the blessings now and always.
Happy Krishna Janmashtami.
May this Janmashtami brings you happiness in your life,
May hatred leave away from you.
Enjoy the auspicious day with lots of love and happiness.
Wishing you the blessings of Lord Krishna.
Happy Krishna Janmashtami.
He was a naughty kid like you,
but he was born as the eighth avatar of Vishnu to save us from evil.
May you be able to be a guide for many for your good deeds.
Happy Krishna Janmashtami wishes to you and your family
-
-