Krishna Janmashtami, the annual celebration of the birth of Lord Krishna, who is the eighth avatar of Vishnu, will be celebrated on Saturday, 5 September this year.
Born to king Vasudeva and Devaki of Mathura, Lord Krishna's birth anniversary is observed on the eighth day of Shravan month (August–September) as per the Indian calendar.
The festival is also known as Srikrishna Jayanthi, Gokulashtami, Saatam Aatham and Ashtami Rohini.
Rasa lila and Dahi Handi are the major attractions of the festival. Rasa lila or Rasa dance describes the story of Krishna, in which he dances with Radha and her companions. It is mainly performed in Mathura and Vrindavan. Meanwhile, Dahi Handi or uriadi, the festival in which young men form human towers to break the high-hanging pot of butter, celebrates the Lord's mischievous side.
Useful Links of Vishnu Sahasranamam, Krishna Stotra, Recipes
Check out some messages and picture greetings that can be shared on Krishna Janmashtami below:
Kids Dressed Up like Lord Krishna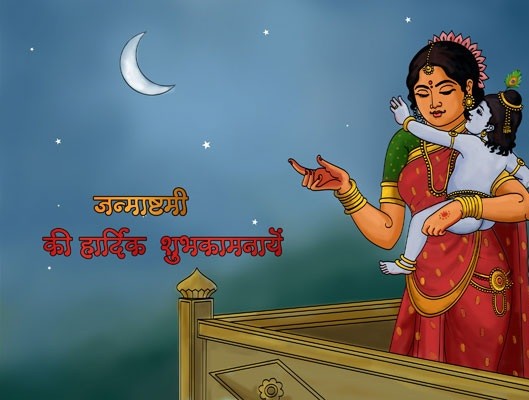 May Lord Krishna steal all your tensions and worries, and bless you this Janmashtami. May he give you all the love, joy, peace and happiness. Happy Janmashtmi.
Today is a special day as someone special was born;

To fight against inhumanity

To save the trust in God

Happy Krishna Janamashtami wishes.
May Lord Krishna's flute invite the melody of love into your life.
May Radhaji's love teach you to love!
Happy Janmashtami.
Check More Picture Greeting HERE
I wish you Happy Janmashtami

Pray to God for your prosperous life

May you find all the delights of life

May your dreams come true

My best wishes will always be with you..
Yashoda ke KRISHNA ke,
Radha ke SHYAM ke,
Gwalon ke KANHA ke,
Gopion ke MAKHAN CHOR ke,
Janamdin ki hardik shubh kamnayen
May Lord Krishna bring happiness in ur life and hatred away from ur life.
Enjoy Janmashtami with heart full of love. Happy Janmashtami greetings.