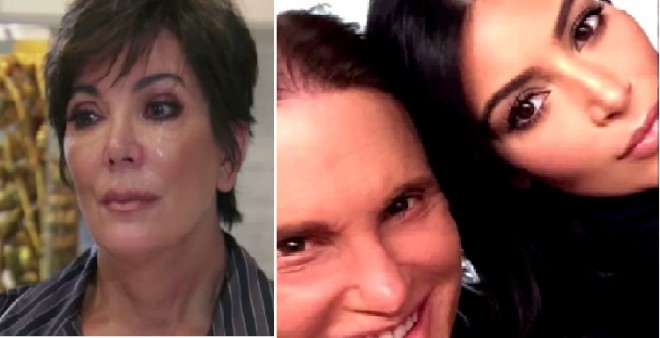 The second and final part of "Keeping Up With The Kardashians: About Bruce" aired on Monday, and Kris Jenner broke down during the first publicised confrontation between the former couple.
After news of Bruce Jenner's upcoming transgender transformation surfaced, this is the first time the world saw Kris and Bruce emotionally deal with his decision.
The special episode, which gave the show a 40 percent rating bump, saw a teary-eyed Kris admit that it was very hard for her to come to terms with Bruce's decision to fully transition.
Though Kris wanted to be supportive, she confessed that she just misses Bruce and feels like he has died.
"I just miss Bruce, and that's going to take a minute for me to mourn the relationship and I'm trying so hard to process my pain and get through my days. It's a struggle," Kris told Bruce.
She continued to confront her ex by saying that every morning she wakes and finds it hard to believe the things that are happening.
"I have to mourn this person I was married to for all these years. It's like I have to mourn Bruce Jenner."
Kris was confused as to what will happen to the former Olympian after he transitions.
"I'm confused what happens to Bruce, because I miss Bruce. I'll never be able to have Bruce and all I have really is my memories. I look at pictures of you and the kids and I get really sad because I feel like ... you died.
"Bruce died," Kris said.
To this, Bruce replied, "I apologise for not maybe being more open with you on these issues. Honestly I'm not going anywhere. I still love you baby."
The emotional conversation ended with Kris telling her ex: "I just want you to know you were a great dad ... a great partner ... It's about you and I just want you to be happy."
The couple separated in October 2013, after 22 years of marriage, but has remained close since the split. And Bruce has continued to appear on episodes of the Kardashians.
Meanwhile, Kim Kardashian has opened up once again about Bruce's transition. She said that she had once, long time ago, walked in on Bruce dressed in women's clothing.
Kim has always been the biggest supporter of her stepdad throughout the transition. And she has proved it again.
The KUWTK star told Access Hollywood host Billy Bush that she first discovered Bruce's secret 12 years ago, when she accidentally walked in on him wearing women's clothing.
"I just put my head down, ran into the house, and I remember I was literally shaking, packing and overnight bag to sleep at [Kourtney Kardashian]'s house," she said.
"I just remember thinking, 'Oh, my god! I've caught him with this secret and he didn't want me to see this," she added.
Kim also told Billy that she has met Bruce as "her".
"It was amazing and she looked beautiful, really beautiful," she said. "She was dressed up, beautiful make-up, beautiful hair, very, very beautiful and very comfortable."
Kardashian also revealed that she does know Bruce's "her" name, though she didn't dish on what exactly it is.
It looks like the Kardashians are indeed going through what we can call mixed emotions.