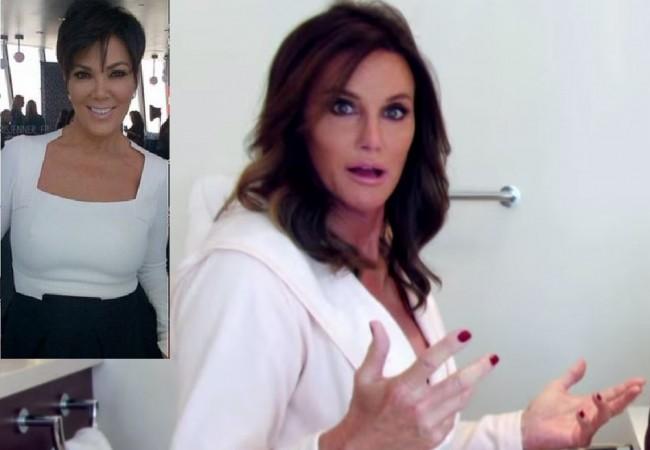 Caitlyn Jenner and her Vanity Fair cover with the 'Call Me Caitlyn' tag is all over the web and undoubtedly, it has been the most-talked about topic last week. But, it looks like Caitlyn's instant rise to fame and her gorgeous new looks did not go down too well with Kris Jenner, who is now reportedly very jealous of Cait.
Caitlyn grabbed a place for herself in the Guinness Book of World Records for reaching 1 million followers on Twitter in the fastest time. And, reports suggested that she could earn more money after her transformation.
Many expect that she's worth five times more than Bruce Jenner (her previous identity). "She could earn more than $100,000 for speaking engagements, compared to the $25,000 Bruce made," it was reported.
Now, apparently Kris Jenner is furious that her ex-partner is more famous than she is.
On the day Caitlyn made her debut on the Vanity Fair cover, the entire Kardashian/Jenner clan shared their support on social media, but Kris remained silent.
And, now the reason behind her silence has been speculated as jealously. "Caitlyn's instant rise to fame and support has everyone now focused solely on her and not on the Kardashians anymore. This was Kris' biggest fear," a source said.
The "Keeping Up With The Kardashians" star is believed to be devastated as she is no longer the alpha female of the family.
An insider told RadarOnline that no one in the family was expecting Caitlyn to be as beautiful as she is.
"Everyone is shocked at how soft and natural she looks and, of course, Kris is just through the roof. Already Caitlyn is more beautiful than Kris and more beloved by fans, and this has Kris spinning out in her head," the insider said.
Kris clearly fears losing the "momager" aura, the report further stated. "Kris knows that she is no longer the 'momager with the most' and this drives her absolutely nuts!" the source added.
Well, Kris Jenner may want to come out and speak up, which is the only way to put an end to these speculations and rumours.