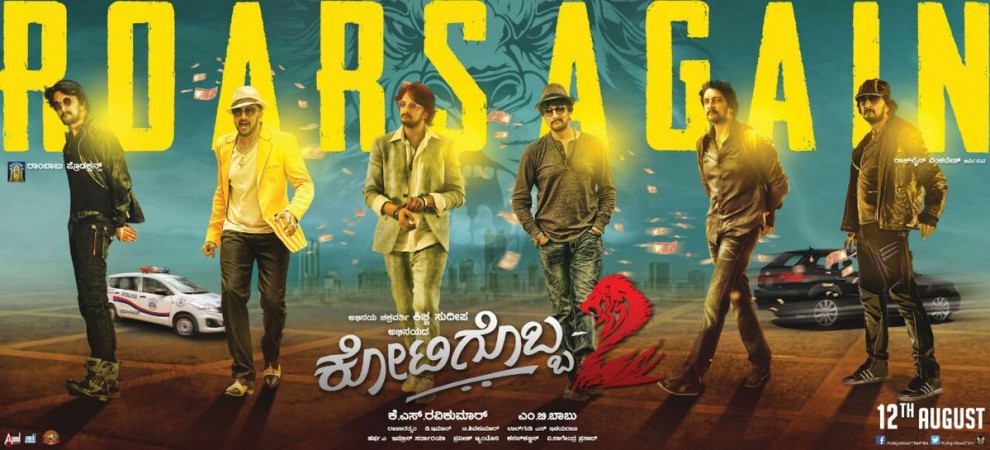 Sudeep's much-awaited "Kotigobba 2" is hitting the screens on Friday, Aug. 12. The film marks the directorial debut of leading South Indian filmmaker KS Ravikumar in Kannada.
Nithya Menen is the female lead in "Kotigobba 2," which also has Prakash Raj, Mukesh Tiwari, Sathish, Sharath Lohitashwa, Nassar, Sadhu Kokila and others in the cast. Popular musician D Imman has scored the music, Rajarathinam has handled the cinematography and Praveen Antony has worked on editing.
It was initially believed that the film was a sequel to Vishnuvardhan's "Kotigobba." However, it has now been confirmed by the makers that the latest movie has no connection to the earlier flick and they have opted for this title considering its "saleable" factor.
Going by the trailer and other promotional materials, it is safe to say that the flick is a pure commercial entertainer like KS Ravikumar's earlier successful movies in Tamil. The film has romance, comedy and action.
The trailer and audio have managed to live up to viewers' expectations, thereby generating positive vibes around "Kotigobba 2," which is being simultaneously made in Tamil as "Mudinja Ivana Pudi." Fans and industry have pinned high hopes on the flick and hope that it will meet their expectations.
Sudeep will be seen in two characters - Satya and Shiva. While one is an innocent guy (Satya) who is into real estate, the other is a thief (Shiva), who loots black money and dreams to settle down in a foreign countrie, enjoying the best things in the world. The cops do not believe the existence of two people and suspects the hero and villain to be the same person.
Are the cops right in their belief? Is Shiva and Satya are the same? Answers to these questions form the rest of the story.
Review:
Here, we bring you the audience response to the movie:
Cineloka: #Kotigobba2 - Pure Commercial Extravaganza. KSR is back. @KicchaSudeep at his best. Worthy gift for cinegoers.
Rating : 4/5
@prakashraaj portion was very emotional. Whatta performance by veteran actor. Wonderful characterization by the director. @KicchaSudeep
A good intense scene featuring @KicchaSudeep @MenenNithya & Ravishankar. Movie going extremely good..
"Huna Huna" song now in the voice of @KicchaSudeep & @MenenNithya. Choreographed well by Harsha.
#Kotigobba2 - Superb First half.. Sexy Screenplay.. @KicchaSudeep steals the show.
Superb melody number "Saalutillave" song on screen..Amazing montages. Wonderfully shot. Superb chemistry btw @KicchaSudeep & @MenenNithya
Going smooth..Grand visuals.. Situational comedy scenes are superb.. Chikkanna rocking
Bharath UP: Blockbuster 1st half. @KicchaSudeep acting. Chikkanna-Sadhu combo rocks as usual. KS RaviKumar is back #Kotigobba2
Second half also good. The climax bike chase action scenes are 1 of the best in KFI #Blockbuster #Kotigobba2 congrats @KicchaSudeep #ksr
Priyanka: #Sudeep is as charming as ever #Kotigobba2 #MudinjaIvanaPudi
Done with the first half....#Sudeep steals the show...commercially loaded.... #Kotigobba2 #MudinjaIvanaPudi. Overall... a pure commercial entertainer. Treat for #Sudeep fans. #Kotigobba2
SandalwoodBoxO1: Watched #Kotigobba2 movie it's very entertaining.. 1st half is superb,2nd half lags & stretched a bit..Kichcha, Nitya & Bgm rating(3.5/5)
Positive about #Kotigobba2
* Kiccha Sudeep presence
* Nitya mennon acting & kannada
* Imam Bgm
* Comedy,Chikkanna
* Climax
Rating(3.5/5)
Negative about #Kotigobba2 * Same old story * lagging screenplay(at some points) * second half * songs Rating (3.5 /5)
Sachin.P: @KicchaSudeep Sir jus watched fan shw #Kotigobba2 awesome movie, stylish star steals the show
Sandalwoodnews:#Kotigobba2 Super reports from premiere shows. Power packed entertainer. @KicchaSudeep steals the show. In theaters from today.
Manju_P_Man: #Kotigobba2 - Pure Commercial Extravaganza. KSR is back. @KicchaSudeep at his best. Worthy gift for cinegoers. Rating : 4/5 @dasadarshan
Raghavendra Jagadish: @KicchaSudeep What an actor,Take a bow. Boss, Can't ask more.Super Movie.
By the way Who is tweeting SATHYA or SHIVA...#Kotigobba2 #fever
Akshay: #Kotigobba2 whole movie is superb and dont bore the audience..But not satisfied of Climax...Different movie n stylish My Ratings -4/5
Nagendra Aithal G: Watched #Kotigobba2... Very good entertainer @KicchaSudeep in 2 shades rocked. Best actor in #KFI for a reason