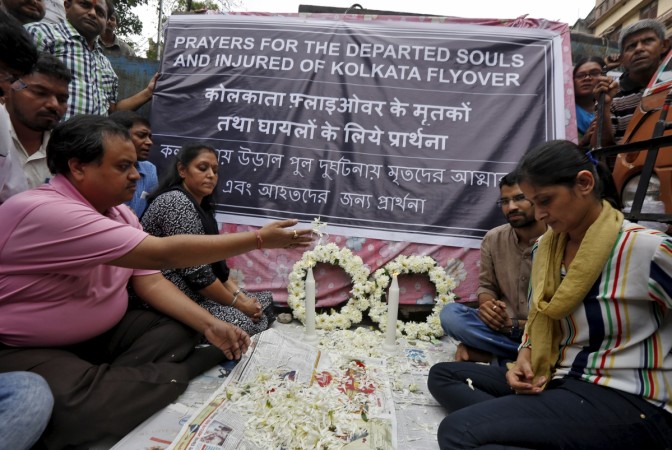 The collapse of an under-construction flyover in Kolkata Thursday has become an election issue in poll-bound West Bengal, where the first of the six phases of voting begins April 4. The tragedy that has left 24 people dead and over 80 injured is being used by the Communist Party of India (Marxist), or the CPI(M), the Congress and the ruling Trinamool Congress to blame each other.
"The chief minister cannot avoid responsibility by shifting it to somebody else," the Hindustan Times quoted state Congress president Adhir Chowdhury as saying, in an attack aimed at Trinamoll chief Mamata Banerjee.
His remark came in response to chief minister Mamata Banerjee blaming the CPI(M)-led Left Front government for awarding the contract to construction firm IVRCL in 2009 for building the 2-km flyover on Vivekanda Road in north Kolkata.
"The tender was awarded during the Left rule. We did not know anything about it," she had said, adding: "No one should try to make political capital out of it."
A report in The Hindu quoted Banerjee as saying IVRCL was a "blacklisted company" and her government would take action against it.
The Left Front sought to defend itself by saying IVRCL was not a blacklisted entity when the contract was awarded in 2009. "The company was not blacklisted then. At that time the work did not progress beyond the construction of a few pillars due to objection of locals," former urban development minister Ashok Bhattacharya told the Hindu.
"The work started recently. The chief minister announced that the work has to be finished before the polls and the state government continued with the same contractor," he added.
Not to be left out, the Bharatiya Janata Party (BJP) — a minor player in West Bengal politics — called the flyover collapse "an act of fraud" and sought a probe by the Central Bureau of Investigation.
"It is an act of fraud protected by the state government. The nexus of corruption between the Trinamool Congress and the Left which is in the opposition has been exposed," the IANS quoted Union Minister of State for Minority Affairs Mukhtar Abbas Naqvi as saying in Kolkata.
An IVRCL official had described the tragedy as an "act of God."
"It is for the first time in the history of the company that such an incident has occurred. We are unable to comprehend at this stage what could have happened. It is beyond our thinking. It is like an act of god," A.G.K. Murthy, director of operations at IVRCL, told the Hindu Friday.
The IVRCL stock slumped almost 10 percent Friday on the BSE, and was trading at Rs 5.77 at around 3:20 p.m., down 9.70 percent from its previous close.