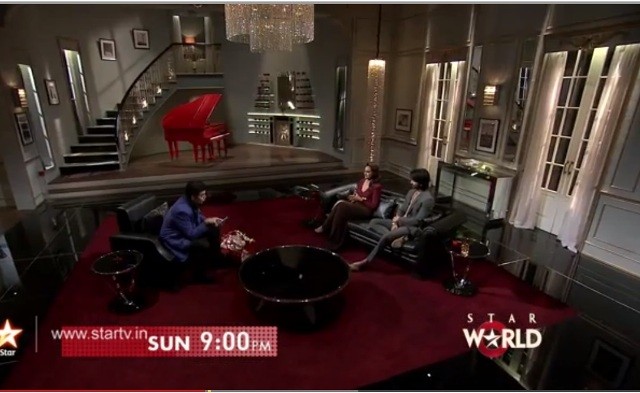 Bollywood actor Shahid Kapoor stole the limelight from Sonakshi Sinha, as he made some candid revelations during their appearance on the latest episode of "Koffee with Karan."
The ace filmmaker began grilling the "Kaminey" actor on his relationships with Kareena Kapoor and Priyanka Chopra. Surprisingly, the actor appeared quite at ease as he spoke about his exes, and revealed that while he shared a comfortable equation with Priyanka, things with Kareena was still awkward.
Shahid then went on to say that he was now averse to dating actresses. "Do not date them," he explained, and reasoned that he would want to romance and settle down with an industry outsider.
The 32-year-old was at his mischievous best, as he called Johar 'curvy' and slotted him with Sonakshi. While the actor constantly pulled the director's leg, Sonakshi broke into peals of laughter. Johar appeared slightly embarrassed but Shahid carried on with his nonchalant demeanor.
Shahid further went on to mimic his "R..Rajkumar" co-star's high-pitched laughter as Johar termed Sonakshi a 'giggly girl'.
In the rapid fire round too, Shahid beat Sonakshi with his fiery answers, as he revealed that he has checked his girlfriend's text messages in the past and that he would like to kill Priyanka Chopra and marry Anushka Sharma. The actor got candid as he confessed that he would forego his acting career than have a life without sex.
Sonakshi on her part appeared quite demure and reserved on the show, but gave a spicy reply saying that Kareena Kapoor suited the role of a "Gossip columnist" better. Her answer was a reaction to Kareena's comment that the "Dabangg" actress would be better off as a housewife. The actress also taunted Ranbir and Katrina's relationship when she quipped that 'a cat' would be the most possible thing found in Ranbir's bedroom. However, her confession of not having watched the iconic "Sholay" raised some eyebrows.