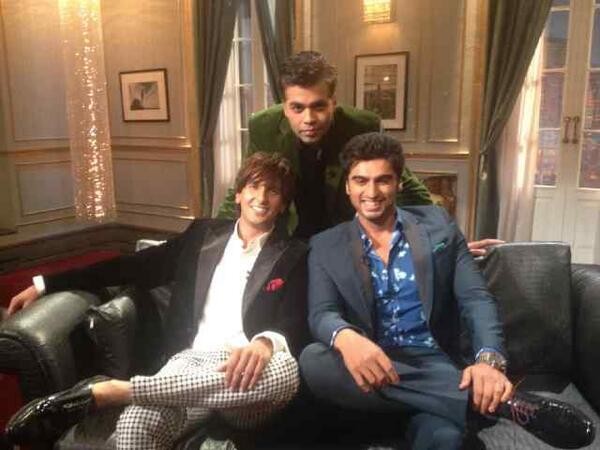 Bollywood actors Ranveer Singh and Arjun Kapoor will be seen at their mischievous best as they answer Karan Johar's questions composedly in "Koffee with Karan"s next episode.
Salman Khan may have debuted big on season four of "Koffee with Karan" sending everyone in shock with his virgin status. But the young gen stars, Arjun Kapoor and Ranveer Singh will take the notch further as they will be seen making quirky additions to the epic statement.
In a sneak peak of an upcoming episode that will be telecast soon, host Karan Johar will be asking Ranveer his equation with women. The actor first denies answering and then dismisses Karan saying, "I'm virgin."
When the filmmaker retorts that Salman has already acted out a similar card, Arjun interjects saying, "Bhai (Salman) is a trendsetter. We are both virgins," and adds "I'm a late bloomer. If I lay on the bed I was a beach whale. It was difficult to do other things. I could hardly see my belongings. My journey started much later. Now I am making up for it."
The impromptu conversation gets amusing as Karan Johar counters by asking, "So now you are a rampant rabbit?" to which Arjun nonchalantly replies, "I like that name. If I was a porn star, that would be my debut film, The Rampant Rabbit," Daily News Analysis reported.
A sneak peak of the upcoming episode with the "Gunday" actors released earlier had the duo making fun of celebrity hater, Kamaal R Khan (KRK). The actors termed KRK as the "most iconic khan" and went on to mock him with his infamous punch lines.
The camaraderie between Ranveer and Arjun would make another interesting episode on the chat show which is to be aired this Sunday.