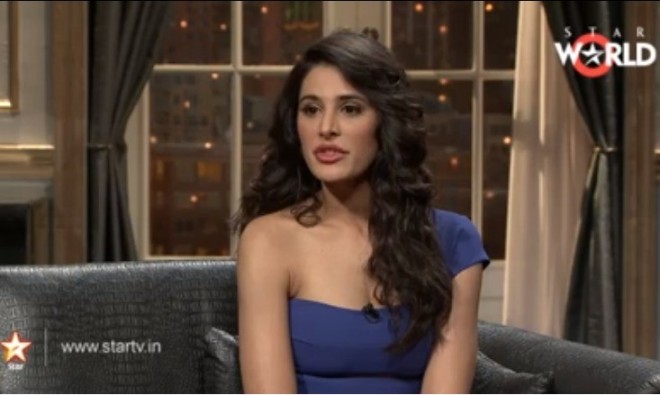 The latest episode of "Koffee With Karan" season 4, featuring Nargis Fakhri and Freida Pinto, is now considered as one of the most entertaining episodes in the chat show's history. And yet again, Ranbir Kapoor became the hot topic of discussion, with Fakhri making a tongue-in-cheek comment about him, by hinting the actor is not marriage material.
Both actresses had no problem scandalising the viewers, with their witty one-liners and candid discussions about themselves and others in the industry. With the discussions ranging from the meaning of their names to ex-boyfriends from the industry, the duo left no stone unturned.
Fakhri, who was speculated to have dated Ranbir during their "Rockstar" days, stated during the 'rapid fire' round that the Kapoor kid is a "mama's boy" and a "gossip queen", who is not marriage material.
The episode did share a lot of similarities to a previous one with Deepika Padukone and Sonam Kapoor, which also had Ranbir in the spotlight. Interestingly, both actresses happen to have dated Ranbir at some point in their lives.
Pinto, the "Slumdog Millionaire" actress, on the other hand, had reasonably good opinion about Ranbir. When asked, who would she pick to marry, among Shah Rukh Khan, Dev Patel and Ranbir Kapoor, the actress picked Ranbir. "I'm gonna be quiet on that one," Fakhri reacted to this, and gestured zipping her lips.
And as if all this was not enough, while discussing the meaning of their names Fakhri said that her first name means 'butt cheeks' in Spanish, while Pinto stated her last name means 'penis' in Brazilian Portuguese.
The episode was considered so scandalous for Indian viewers that it was given a late 11pm slot, as opposed to the usual prime time slot. Well prime time or late night, chat show never fails to entertain the viewers. And when two girls are in a bitchy mood, the episode just gets scorching hot.