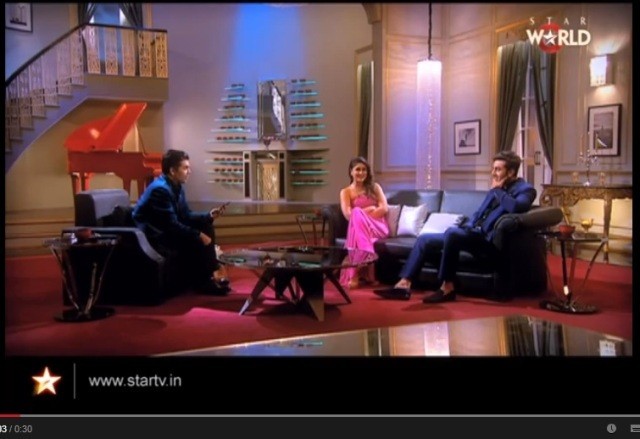 Karan Johar managed to get quite a few secrets out from both Kareena Kapoor Khan and Ranbir Kapoor in "Koffee with Karan" new season's second episode.
Dressed in gorgeous pink, Kareena appeared quite brisk in her good friend Karan's show, as she answered most of the questions with zest and kept teasing cousin Ranbir.
After answering the clichéd post-marriage status of her life, Kareena stated her reservations on husband Saif Ali Khan's intimacy on-screen with other actresses.
When Johar asked Kareena if she would kiss on-screen now, the actress replied, "I don't know. I haven't even discussed it with Saif. But I have definitely told him that he can't kiss on-screen," before adding, "I know he won't be comfortable if I kiss another man."
Kareena and Ranbir shared an interesting camaraderie on the show, as child memories and family moments of the Kapoor family were shared.
While Ranbir made it clear that working with ex-girlfriend Deepika Padukone had been a comfortable experience, Kareena pointed out, "I don't believe in looking back. I have never worked with any (ex-boyfriend. But I have never got an opportunity even."
Kareena spoke about her new family and said that she shares a comfortable equation with Saif's children from his first marriage; Sara and Ibrahim. She alo highlighted Saif's cool father status and revealed Sara talks about her boyfriends to him.
Meanwhile Ranbir revealed that his dad Rishi Kapoor is uncomfortable with him having girlfriends, "He hasn't quite accepted the fact that I can have girlfriends". But he stated that his mom (Neetu Kapoor) has been cool with all his girlfriends.
The episode predominantly had Kareena teasing Ranbir in relation to the new gossip surrounding him and Katrina Kaif. She revealed she has plans of dancing to the "Dhoom 3" actress' famous item numbers on the Ranbir-Katrina wedding.
Ranbir also praised Salman Khan and said the superstar has always been warm towards him, and as opposed to the media belief, no cold vibes exist between them.
Interestingly, Ranbir picked Katrina over ex-girlfriend Deepika as the most stunning actress. Also, in relation to acting skills, he rated Kareena, Katrina and Anushka Sharma above Deepika, Priyanka Chopra.