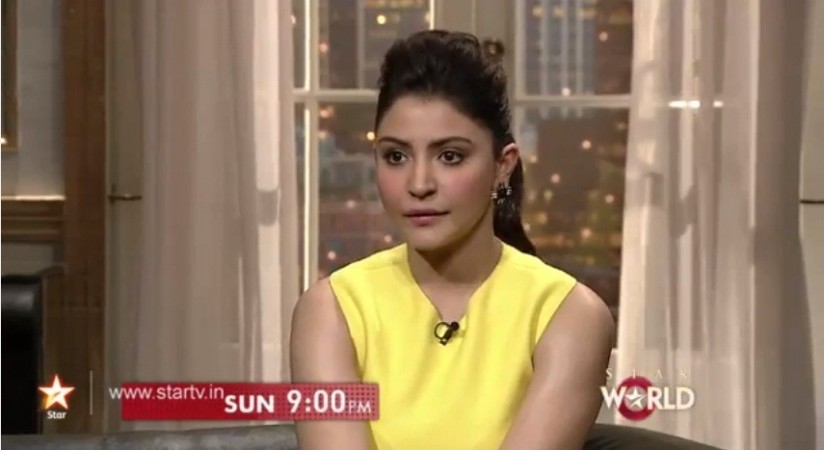 Bubbly actress Anushka Sharma revealed her sly side, as she took digs at Ranveer Singh and alleged girlfriend Deepika Padukone on "Koffee with Karan."
Even though, it was director Anurag Kashyap's debut on Karan Johar's show, Anushka's alleged romantic liaison with Virat Kohli and her digs at Ranveer-Deepika was what hogged the limelight.
The "Jab Tak Hain Jaan" actress spoke about former boyfriend Ranveer, and said that as opposed to media reports, she shares a cordial relation with the actor even though they don't catch up like before. The actress, however, was surprised when Karan informed him that the "Gunday" actor had ranked her as the top actress over Deepika, despite being in a relation with the latter.
In the rapid fire round, the actress appeared quite perked up, as she said, "I would say my morning prayer, Ram, ram, ram..." on waking up as Deepika Padukone.
Directing her jibes at the duo again, the actress quipped mischievously, "I will watch 'Ram-leela'" and joked on possibly dancing to 'garba' with Ranveer and Deepika, if stuck in a lift together.
Anushka further shot straight-faced answer negating that she was not friends with the "Chennai Express" actress, as claimed by the latter in an earlier episode on the show.
Apart from picking on Deepika and Ranveer, the actress was left in a tight spot as host Karan kept drawing attention to her and Kohli's association. Even though the actress vehemently denied the statements, the actress was caught blushing and at once responded saying, "I feel so naked right now" on being linked with the cricketer.
Director Anurag Kashayp offered interesting answers as he blatantly termed director Ram Gopal Verma a thing of the past by terming him "Ram Gopal Verma was". The director hilariously put that he would lose his virginity if he were Salman Khan and advised Ranbir Kapoor to fall in love seriously. As for Kareena, he said that the actress should consider the scripts and not the star cast of the films in future.
The acclaimed director confessed to being jealous of contemporaries Rajkumar Hirani and Dibakar Bannerjee and felt their licenses should be revoke. "They create the most envy inside me," he explained.