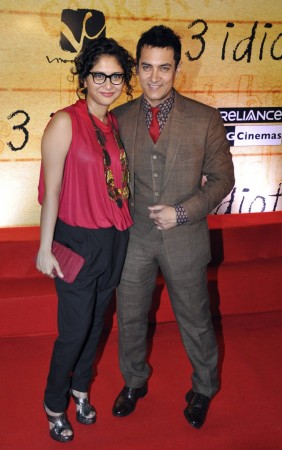 Aamir Khan is known to share a good rapport with Salman Khan and considers him a good friend. But the equation was otherwise when the actors first began working together.
In a candid conversation with Aamir on his chat show "Koffee with Karan", filmmaker Karan Johar managed to some scoop about their initial days of acting. Aamir revealed that he had reservations about working with Salman and found him to be 'very rude'.
"In 'Andaaz Apna Apna', I had a bad experience working with him. I didn't like him as I found him very rude and inconsiderate. Over the years whenever I met him, I was polite but I just wanted to stay away from this guy," Aamir said, reported The Times of India.
He said the differences faded as he got to know Salman over the years, particularly during the period when he separated from his first wife Reena.
"However, this changed sometime around when I split up with Reena. He walked into my life at a juncture when I was at my lowest phase. Once when I met him, he said that he wanted to come over. And he came over and we started drinking. I don't know how, but something connected there. It kind of grew, we began spending more time together," he said.
The actor also said he did not think highly of Karan Johar and revealed he didn't want to appear on the chat show.
"When you started your show, I did not know you too well and whatever little I knew about you, I didn't like. I think when you don't know a person you have a lot of misconceptions about them. But the point is, I like you now and I'm happy to be here," Aaamir responded to Johar's question of making a presence on the show's fourth season.
Aamir's better half Kiran Rao will also accompany the actor on the famed couch. Kiran on her part will share her experience of being the star wife and the constant media glare that goes along with it. The filmmaker also spoke about Aamir's fragile emotional state when she started dating him.
Aamir and Kiran will appear as guests on "Koffee with Karan" in tonight's episode.