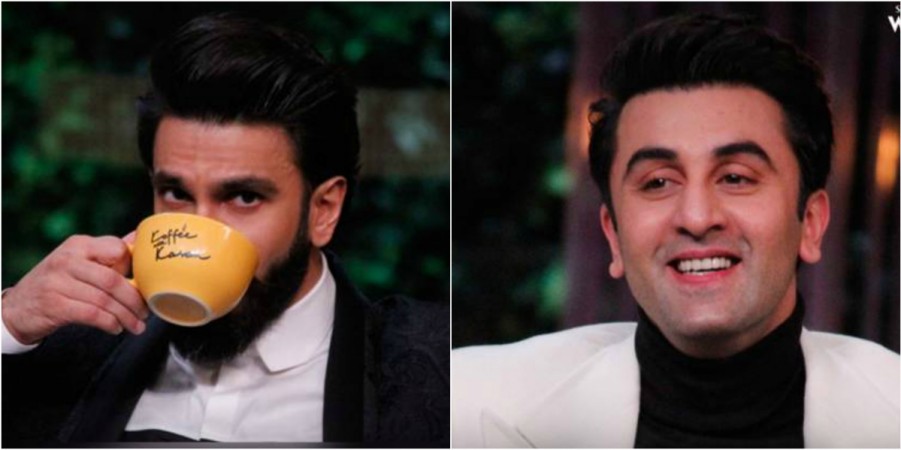 Ranveer Singh and Ranbir Kapoor's explosive confessions on Koffee With Karan 5 are the best of all seasons. And clearly, there's no scope for hush-hush admissions this season.
Both the stars, known to share an uncomfortable rapport offscreen, put up a good show and shared some of their deepest secrets in the most no-holds-barred manner possible.
The entire episode was a crackling one, but we have listed below some of the high points from it:
Singh said he likes to sleep naked and Kapoor confessed he is more comfortable in his pajamas and T-shirt.
Kapoor wants Deepika Padukone and Singh to make babies and have them call him (Kapoor) greatest actor.
Singh and Kapoor said they were keen on working together and requested that if host Karan Johar would like to fund their project. The filmmaker quipped he would like to remake Sangam with Kapoor, Singh and Padukone.
Kapoor confessed that he is not dating anyone at the time and Singh asked if Johar was on Facebook, then he must state relationship status.
On relationship status, insecurity, sex and all things personal:
The Ae Dil Hai Mushkil star admitted that being single is boring and one feels extremely lonely without any company. "If you want space, go to NASA," Kapoor added.
Singh proclaimed: "I am the best boyfriend in the world."
Johar revealed Kapoor has been celibate for a while. Kapoor reacted to the revelation by saying he doesn't miss the physical aspect of a relationship, it's just good company that he yearns.
What are the layers in between sex and love? Johar asked. Singh thought sex is wonderful when it's with someone one loves and Kapoor agreed. "Casual sex is very similar to masturbation. If you don't feel connected to your partner or whoever you are with, it's pointless," the Jagga Jasoos star explained.
Kapoor also went on to say how porn is unhealthy and that it messes up an individual's sex life. "It's too violent and dark," he said, to which Singh joked that he has been watching the wrong kind of adult films.
The funniest segment was probably the one, in which Arjun Kapoor was called on to serve as an "object of desire." He was stationed in between the two celebrity guests on the infamous couch and being kissed for every question asked.
(Ranbir) Kapoor and Singh confessed to making out on a plane, in a makeup room, digging their nose in public, having skinny dipped, having gone commando, fantasised about mother's friend and hooked up with an older woman.
If this wasn't already explosive, Singh went on to say he was in a threesome/orgy, did it in the gym and checked his girlfriend's phone once. Kapoor admitted to having slept with a friend's girlfriend and drunk-dialled an ex-flame multiple times.
(Arjun) kapoor after all the kisses that came his way, announced that the other Kapoor was a better kisser than Singh because he was gentle and soft unlike the Befikre star who made out with him quite a bit.