Global art is turning a new leaf with the India's coastal city of Kochi, employing largely unconventional aesthetics to welcome back the second edition of the Kochi-Muziris Biennale (KMB). Focusing on works that unconventionally or quirkily narrate the region's legends, "Whorled Explorations" will feature 100 artworks by 94 artists across India and abroad.
The 108-day-long extravaganza was opened to the media for the first time on 11 December, a day prior to the official opening, when the artistic director and curator of Kochi-Muziris Biennale 2014, Jitesh Kallat, conducted an on-site tour for journalists.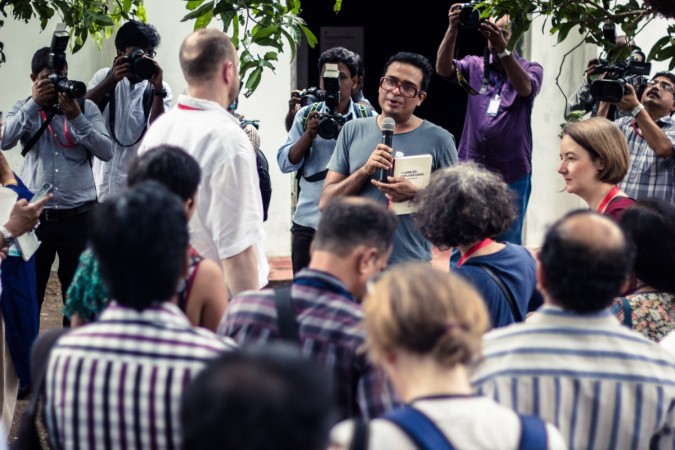 "The biennale is back again in Kochi; this time with 100 works of 94 artists from 30 countries at eight venues," Mumbai-based Kallat announced to the media before the start of the press tour at the Aspinwall House, one of the eight venues for the event.
He was introduced to the media by Bose Krishnamachari, president of the Kochi Biennale Foundation, which is organising the contemporary art festival.
Kallat, himself an artist of international repute, said the second edition of Kochi-Muziris Biennale set to invoke mysterious expedition of earth. Kochi was an interesting site to invoke the mysterious expedition of the Earth, "our shared dwelling hurtling through space at dizzying velocity".
The theme of understanding the world through the inter-planetary movement has been presented through the varying forms of art works, "beginning with the first work at the Aspinwall House in 'Power of Ten' by the late Charles and Ray Eames, the Americans whose work shaped modernist design in post-war United States."
Partnering with the Kerala Tourism department, the Kochi Biennale Foundation has also invited architecture students from Spain and India to build a prototype for a bamboo roof for covering the trenches in Pattanam where the Kerala Council of Historical Research is conducting an archaeological excavation to track out Kerala's early history surrounding the Spice Route.
"This bamboo roof at the biennale will be a place where visitors can gather and converge," explained Kallat.
The central exhibition of the 2014 Biennale would include India's traditional yet evolving music, dance, percussion, theatre and ballet besides cinema, and a series of seminars and lectures by scholars around the globe.
KFB 2014, which relies heavily on both governmental and private funding, would be inaugurated by Kerala Chief Minister Oommen Chandy at 7:30pm on 12 December at Fort Kochi's Parade Ground after a 90-minute "Pandi Melam", an ethnic ensemble comprising 300 artistes on Chenda, cymbals, pipes and horns.
Kochi mayor Tony Chammany buys the first KMB 2014 ticket. pic.twitter.com/C1aQw0GLcU

— KochiMuzirisBiennale (@KochiBiennale) December 12, 2014
The other venues for this year's Biennale, which will last till 29 March 2015, include the David Hall, CSI Bungalow, Cabral Yard, Kashi Art Gallery, Vasco da Gama Square and Durbar Hall.